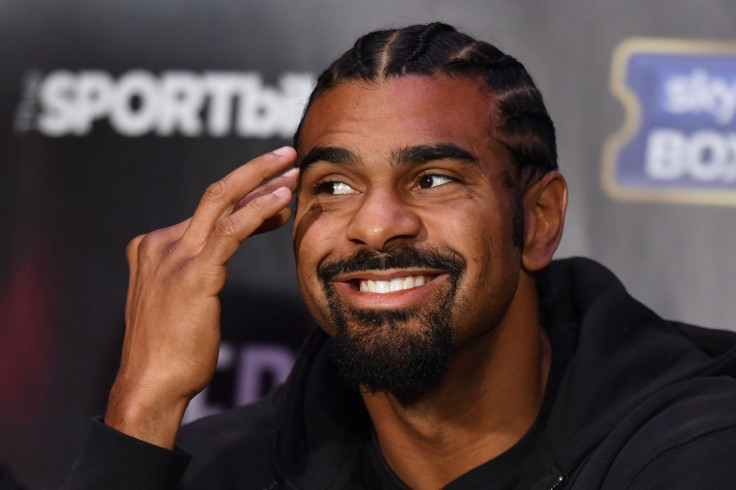 David Haye has indicated he will retain the persona that has dominated the build-up to the clash with Tony Bellew if he gets the chance to face Anthony Joshua later in the year. The Bermondsey-born fighter has exchanged barbs with Bellew in the months, weeks and days leading up to the bout on Saturday [4 March] and is ready to unleash his frustration on the cruiserweight world champion.
The 36-year-old has been openly graphic regarding the beating he plans to subject Bellew to this weekend, promising to "cave in" the Liverpool fighter's skull on his heavyweight debut. Haye's conduct ahead of the third fight since his latest comeback from retirement have provoked criticism from the British Boxing Board of Control, who have met to discuss punishing him for his regular outbursts.
Haye is hopeful a routine victory can catapult him towards the summit of global boxing, with an all-British fight against Joshua, who faces Wladimir Klitschko at Wembley Stadium on 29 April, touted for the second half of 2017. Joshua has always avoided engaging in pre-fight insults but Haye could continue his attacks, which have been widely criticised.
"It depends what vibe he gives me," said Haye on the prospect of fighting Joshua. "It depends what he dished out at me. He reads from a script anyway so he won't say anything that ruffles any feathers."
Such behaviour has been somewhat uncharacteristic of Haye, who has mellowed in recent years since beating Dereck Chisora at Upton Park in 2012 when a fence was erected to keep the pair apart ahead of the fight. Bellew has "reawakened" the dark side within the veteran which has led to the overzealous threats directed towards him before a fight Haye believes should not be even taking place.
"I feel like I've reconnected," he added. "When I was I training camp in Miami it was very spiritual, beautiful; I was looking at the sunrises and swimming. But since I've come back and been face-to-face what him it has reawaken the darker side in me and that darker side does not bode well for him the boxing ring.
"I stand by that [that the fight should not be taking place]. After the fight you'll all be going to me 'you did say that'. I punch too hard and he's a weight below me. What was the weight difference between [Gennady] Golovkin and Kell Brook? 13 pounds. I am that Golovkin-type puncher.
"He's done a fantastic job in hyping the fight up and getting people believing of my alleged frailties but it's not going to end well. It appears he has a lot of pride. He's never been punched in the face by someone like me, he's got rocked by guys who punch fractions as hard as me and nowhere near as fast as I am.
"I am not back in boxing to gain fans. I don't need any fans. Mike Tyson when he was knocking people out was not saying anything nice to gain fans, he was talking about people's children and punching people's noses into their brain; it was terrible. People tuned into watch it. I don't need to be like, I don't care about being liked, as long as people respect what I do in the ring that is all that counts. I want people to remember what I do in the ring."