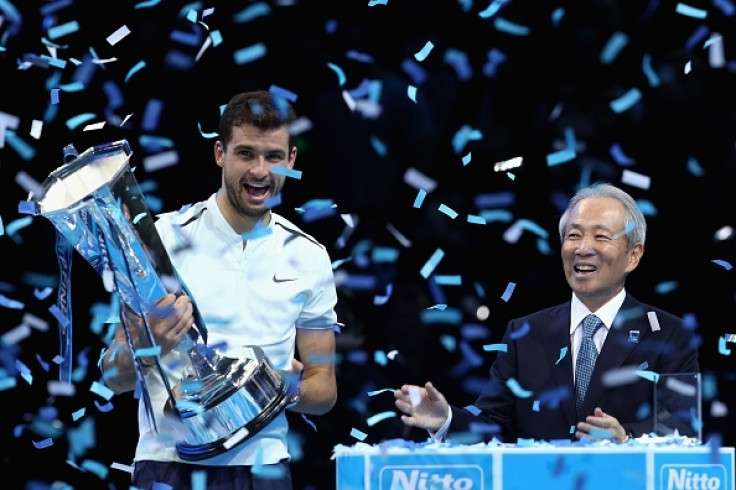 Grigor Dimitrov is expecting an "interesting" 2018 with the returns of Novak Djokovic and Andy Murray. The Bulgarian is also aiming for a Grand Slam following his win in London.
Dimitrov defeated David Goffin on Sunday (19 November) 7-5, 4-6, 6-3 in his ATP World Tour Finals debut as he won the event without suffering a single loss.
It only adds to the 26-year-old's meteoric rise, as he climbed from 40 to number three in the ATP tennis rankings in a matter of 18 months, and he is now targeting a Grand Slam.
"Of course, one of my main goals is to win a tournament, you know, a Grand Slam tournament," Dimitrov said, as quoted on Metro. "This has always been, again, a dream of mine."
"Now slowly I think this thing is getting there. I think I've had good results in the past, but now, as I said, I need to be even more consistent on those kinds of events, and in the same time raise up my level on occasions like this.
"Obviously, this is a great, unbelievable achievement for me, yes. But, yeah, I just still have a lot to give. I want to perform better and better."
Dimitrov notably had a great second half of the season that saw him win his first Masters 1000 title in Cincinnati in addition to the ATP Finals, which he credited to practising with world number one Rafael Nadal.
The Bulgarian is now looking forward to the new year with the return of many stars, particularly in the 2018 Australian Open in January.
"Next year I think is going to be obviously pretty interesting, especially the beginning of it," Dimitrov added.
"There's still quite a few names that are going to come back and play. That's just obvious. You should never count them out."