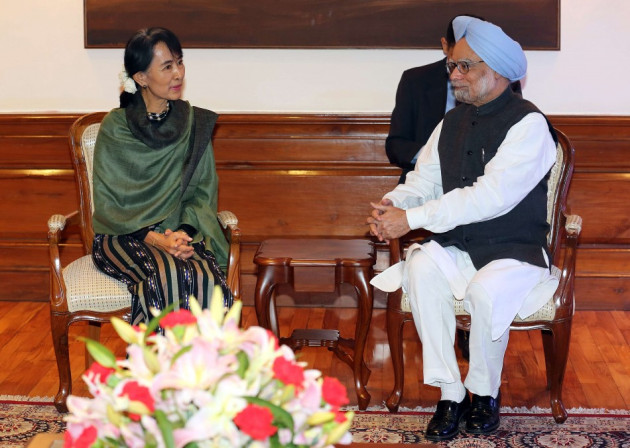 Myanmar's opposition leader Aung San Suu Kyi, who is on a six-day visit to India has cautioned against over-optimism on the reforms happening in her homeland, which is ruled by a quasi-civilian government.
"It's (got) to be able to take a good hard look at what is really happening," said Suu Kyi in an earlier interview to the Indian newspaper The Hindu.
"Not to be over-optimistic, at the same time to be encouraging of what needs to be encouraged; because I think too much optimism doesn't help because then you ignore what is going wrong, and if you ignore what is not right, then from not right it becomes wrong".
Suu Kyi, Nobel laureate and the icon of the pro-democracy movement in Myanmar has met India's Prime Minister Manmohan Singh. It is her first visit to the country in nearly 25 years.
"Our good wishes are with you and your struggle for democracy," Singh told Suu Kyi.
"The two discussed a variety of issues including the national reconciliation process underway in Myanmar and the process of democratisation in this context. The Prime Minister welcomed the progress made by Daw Suu Kyi and President Thien Sien," the Press Trust of India reported quoting government sources.
Suu Kyi's visit is seen as an attempt by the Indian government to mend ways with the pro-democracy leader as New Delhi, of late has been actively engaging with Myanmar's semi-civilian government by strengthening business and trade relations to counter rival China.
The two governments have rcently signed 12 agreements covering the areas such as security, development of border regions, trade and transport links.
Suu Kyi said that she was "saddened" at the Indian government's recent change in position. India was a staunch supporter of the pro-democracy leader.
"I think rather than disappointment, sad is the word I would use because I have a personal attachment to India... because of the closeness that existed between the countries".
Earlier, she paid tributes to the memorials of Mahatma Gandhi and Pandit Jawaharlal Nehru, the first prime minister of India.
Apart from meeting political leaders, Suu Kyi is expected to meet her school and college friends. Suu Kyi was a student of Convent of Jesus and Mary School and had graduated in Political Science from Lady Shri Ram College in New Delhi.
"It feels very good to be in India, and I am glad that I can still recognise parts of Delhi," she told Indian television channel Times Now.
Later, Suu Kyi will deliver the prestigious Jawaharlal Nehru memorial lecture. Suu Kyi's father General Aung San, regarded as Myanmar's independence hero, was a personal friend of Nehru.
Suu Kyi's last visit to India was in 1987 to meet her husband Michael Aris who was pursuing Himalayan studies at an institute in the scenic hills station of Simla.