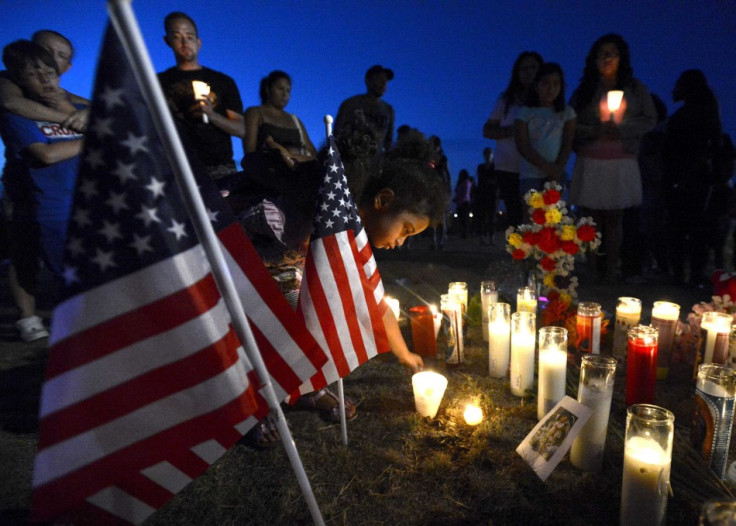 The accused in the Aurora, Colorado, shooting bought four guns and 6,000 rounds of bullets "legally" as part of his plan to massacre unsuspecting movie-goers on Friday.
It has been reported that 24-year-old James Holmes was armed with an AR-15 assault rifle, a 12-gauge shotgun and a Glock .40 calibre handgun when he stormed the Century 16 cinema in Aurora, Colorado, on 20 July. Police found another Glock .40 calibre handgun in his car.
Apart from expressing "shock and sadness", both the US presidential candidates, Barack Obama and Mitt Romney, have remained silent on the sensitive issue of gun control.
On Saturday, Obama called for a moment of silence for the victims at the beginning of his speech in Fort Myers, Florida, but did not touch on the topic of gun control.
His counterpart in the forthcoming presidential elections, the Republican Mitt Romney, also avoided raising the issue during his speech in Bow, New Hampshire.
"It's not one of the issues that either candidate has shown much inclination to discuss," Bloomberg quoted Don Kettl, dean of the school of public policy at the University of Maryland, as saying.
"There are more downside risks than upside gains in talking about it," he added.
According to supporters of gun control, weak US federal and state laws fail to prevent dangerous people from owning and accumulating guns.
Each year, nearly 4.5 million new firearms, including approximately two million handguns, are sold in the United States, according to statistics from the Bureau of Alcohol, Tobacco and Firearms.
"Congress has done nothing since the mid-1990s to keep guns out of the hands of dangerous people," said a statement from the anti-gun lobby group, Brady Centre to Prevent Gun Violence, following the Colorado shooting.
Michael Bloomberg, the New York City mayor and a high-profile supporter of gun control, has urged the two presidential candidates to clarify their stance on the issue.
"Soothing words are nice. But maybe it's time the two people who want to be president of the United States stand up and tell us what they're going to do about it, because this is obviously a problem across the country," said Bloomberg in an interview with WOR radio.
"I don't think there's any other developed country in the world that has remotely the problem we have… We have more guns than people in this country. Every place else, if there are murders, they're generally not done with guns," he said.
The right to keep and bear arms is guaranteed in the US constitution, alongside such basic rights as free speech and freedom of religion.
While enacting The Gun Control Act of 1968, Congress declared that its purpose was to keep firearms out of the hands of those not legally entitled to possess them, and to assist Federal, State and local law enforcement officials in their efforts to reduce crime and violence.
Gun rights groups are a powerful lobby in the US and no political party wants to risk its popularity by supporting strict controls on gun purchases. The Democrats partly attribute the defeat of Al Gore in the 2000 elections to his stance on the issue.
Though the Aurora, Colorado, shooting has revived gun control as a topic for public debate, the two presidential hopefuls show no sign of supporting legislation designed to reduce gun violence.
According to a report by the United Nations Office on Drugs and Crime, the gun murder rate in the United States stood at 3.0 per 100,000 population in 2009. In neighbouring Canada it was 0.5 per 100,000 population.