Aurora Colorado Shooting: Masked Gunman in Batman Rampage Kills 14 as FBI Hikes National Security Level
The FBI is considering raising the national security level across the US after the shooting rampage that killed at least 14 people and injured 51 at a cinema in the Colorado city of Aurora during a midnight showing of the new Batman film, The Dark Knight Rises.
One man in his 20s has been taken into custody by police and a bomb squad is checking a Hyundai vehicle in the car park for an explosive device. Police have found explosives in the home in the suspect's home.
The local Children's Hospital has confirmed that the youngest victim being treated was six years old. The University Hospital says the youngest patient from the shooting is three months old.
President Barack Obama has released a statement saying he is "shocked and saddened" by "horrific and tragic" Colorado shooting. "We are committed to bringing whoever was responsible to justice, ensuring the safety of our people, and caring for those who have been wounded," he said. "As we do when confronted by moments of darkness and challenge, we must now come together as one American family."
A witness told Sky News that a man kicked through the cinema door dressed all in black, clad in a riot helmet and body armour and holding a shotgun. Other witnesses said that the man was masked.
Many of the film fans were dressed in costumes, enabling the gunman to infiltrate the throng without raising suspicion.
Denver police said that the smoke thought to have come from a bomb explosion was actually teargas.
Many children are among the dead, according to Donna Hayes-Johnson, a news producer at WFHP.
Local media report that two gunmen went on the rampage.
Aurora Colorado Shooting: Panic as Blood-Soaked Batman Fans Flee Masked Gunman [VIDEO]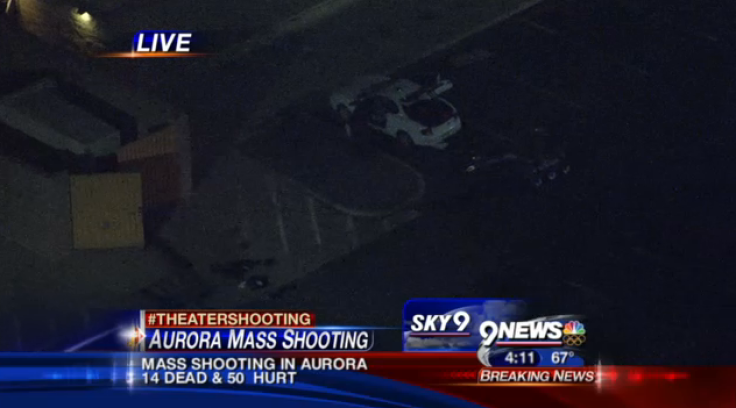 © Copyright IBTimes 2023. All rights reserved.