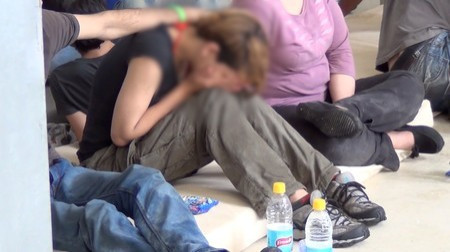 The Australian government has triggered outrage among rights groups by posting pictures of despairing asylum seekers online to advertise the successful implementation of a controversial new immigration policy.
The Department of Immigration and Citizenship (DIAC) uploaded pictures and a video depicting around 80 Iranian asylum seekers, whose boat was intercepted by Australian authorities north of Christmas Island.
In one photo a woman is seen crying, with head in hands, as she sits among some distraught fellow migrants on the floor of Christmas Island's West Point temporary immigration detention facility.
"A female asylum seeker comes to terms with the fact she won't be settled in Australia," the photo caption reads.
The group had been told they would not be allowed in Australia but taken to Papua New Guinea (PNG) instead, under a new agreement signed by the two countries.
"The message we did give them was quite clear, in terms of where they will be processed and I think that probably sank in a bit," Christmas Island Department of Immigration regional manager Steven Karras said.
"I'm sure they're now thinking about whether it was wise to come in the first place.
"And I think in fact over the coming days...they will start to contemplate very seriously whether in fact returning home is a better option."
Rights activists angrily reacted at the publication, describing the pictures as ''creepy'' and "heartless".
Elenie Poulos, national director at UnitingJustice, tweeted:
Posting these pics is heartless and abusive RT @HouseofWelcome: Creepy photos out of DIAC. Upsetting, really.
— Elenie Poulos (@EleniePoulos) July 22, 2013
Immigration minister Tony Burke told The Guardian "no apologies" were needed for the photographs as they served the scope of getting the message out as quickly and as forcefully as possible that anyone who now arrives by boat without a visa will not be settled in Australia.
"Getting this message out is critical to stopping people from drowning at sea and I make no apology for maximising that opportunity to get the message out," he said.
Under the treaty signed last week by Australian Prime Minister Kevin Rudd and his counterpart Peter O'Neill, all asylum-seekers arriving by boat in Australia are to be deported to PNG for processing and will have to settle there even if found to be refugees.
In return, the Canberra government will provide fresh aid to PNG for hospitals and universities and pay "resettlement costs" for the refugees.
The singing was described as "a complete disregard for asylum seekers but absolute contempt for legal and moral obligations," by Amnesty International and "a day of shame for Australia," by Greens leader Christine Milne.
Rudd defended the policy by saying it tackles human smugglers.
"These folk are merchants in death and their business model needs to be dismantled, part of this policy response is to do just that," he said.
A total of 15,728 asylum seekers have arrived by boat this year. The arrivals are on track to exceed last year's total of 17,202 as well as the Government's target of resettling 20,000 refugees a year.