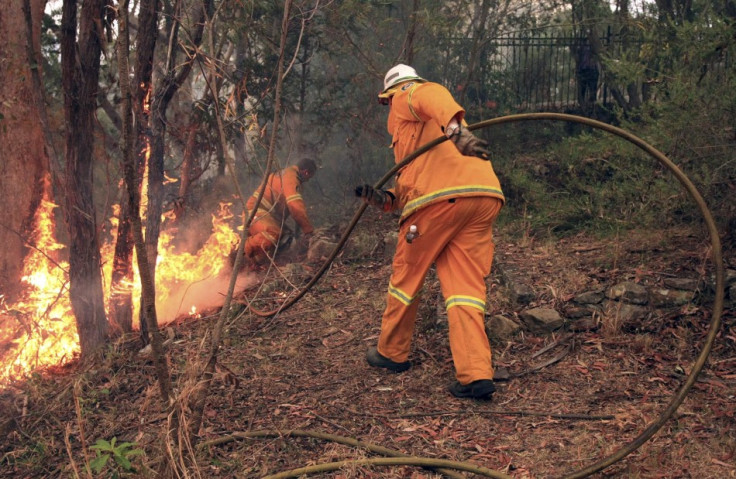 Thousands of firefighters are battling raging bushfires across Australia's New South Wales (NSW), with adverse weather conditions worsening the situation.
At least 65 fires have broken out, forcing thousands of Australians to flee their homes, and the number is likely to increase with weather forecasts showing high temperatures, low humidity and strong winds,
At least 23 of the infernos have yet to be contained and authorities have stepped up the warning levels. As many as 200 homes in NSW have been destroyed during the week-long bushfire.
One person has reportedly died of a heart attack in the wake of the devastating blazes.
"If you don't have a plan, let me give you one. Get into the car, drive down to the city metropolitan area and let the firefighters do what they can do to protect the community, should this turn for the worse," said NSW's emergency minister Michael Gallacher.
At least 1,000 firefighters are currently working in the Blue Mountains, west of Sydney, and hundreds more are being deployed to create paths breaks in the hope of controlling the raging fire. The Blue Mountains is a popular tourist destination and home to nearly 75,000 people.
Temperatures is likely to reach up to 35C in Sydney, according to forecasts.
"This is the day where we've been receiving forecasts of the worst of the weather for this week and that forecast is still staying with those predictions," Shane Fitzsimmons, commissioner of the rural fire service, told reporters.
"Whilst that is some welcome relief in terms of moderating the current fire behaviour, it has compromised considerably the ability to continue with the back-burning operations that were planned throughout the evening."
NSW Premier Barry O'Farrell said: "We are all in this together and we are going to get through this day. If you haven't prepared yourself, for those in the Blue Mountains, now is the time to leave."