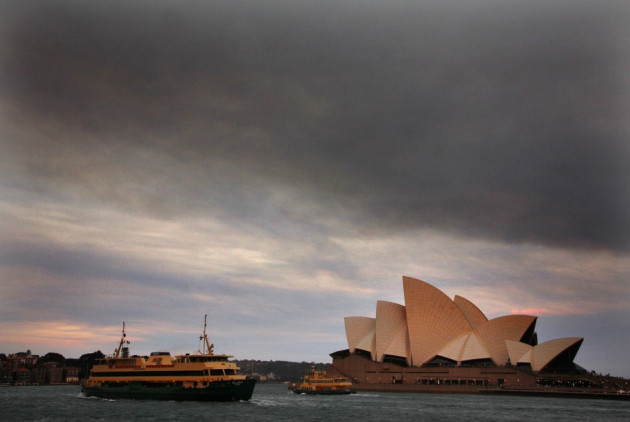 A state of emergency has been declared in New South Wales, Australia, as bushfires threatened to engulf the Blue Mountains region, forcing the evacuation of hundreds of homes.
The fires are believed to be the worst in 40 years, and have cast a pall of dark smoke over the state capital, Sydney.
Emergency services say that more than 15 fires remain out of control, and more than 37,000 hectares (91,400 acres) have been consumed by the blaze so far.
The declaration gives emergency services extra powers to tackle the fires, including cutting gas and power supplies.
"We're planning for the worst but hoping for the best," said New South Wales premier Barry O'Farrell.
So far, the fires have killed one man, who may have had a heart attack as he tried to protect his property.
Conditions are expected to get worse over the next few days, as temperatures rise to an unseasonably warm 30C (86F) and wind speeds increase.
"We are likely to see deteriorating conditions starting this afternoon (Sunday) as we've already been acutely aware of, but more so as we move into Monday and Tuesday," Rural Fire Service commissioner Shane Fitzsimmons said.
"We've got what would be unparalleled in terms of risk and exposure to the Blue Mountains throughout this week. If you are to draw a parallel, and it's always dangerous to draw a parallel, at best you'd be going back to the late 1960s.
"The reality is, however, these conditions that we're looking at are a whole new ball game and in a league of their own," the commissioner said.
He said there was a significant risk of the three largest fires joining, and forming and even more forbidding challenge for emergency services.
In the town of Bell, residents were warned to flee, or "take shelter in a solid structure when the fire front arrives".
New South Wales Police Assistant Commissioner Alan Clarke said authorities are hoping that people will leave their homes of their own accord, but added police will undertake forced evacuations "if the risk is necessary".
"Those that can help themselves, we are going to give them all the information we can so they can make a responsible decision early," he said.
"We will do forced evacuations if necessary, but they should be risk based.
"At the end of the day, we hope we have buildings standing. But if we don't have buildings standing we don't want bodies in them," he said.
The Australian military is currently investigating the possibility that explosives used on training exercises accidentally started one of the fires.
The bushfire has been fuelled by exceptionally dry conditions following Australia's hottest year on record.