Australia decries Japan's whaling activities after photos of dead minke whale on Japanese ship emerge
The release of the photos coincided with the Japanese PM's visit to Australia over the weekend.
The Australian government was "deeply disappointed" over Japan's whaling activities, Environment Minister Josh Frydenberg said after an anti-whaling group recently released images of a dead minke whale onboard a Japanese whaling ship.
Frydenberg maintained that Australia was "opposed to all forms of commercial and so-called 'scientific' whaling".
The release of the photographs coincided with Japanese Prime Minister Shinzo Abe's visit to Australia over the weekend. Abe and his Australian counterpart Malcolm Turnbull reportedly discussed the issue of whaling during their meeting in Sydney.
"It is not necessary to kill whales in order to study them," Frydenberg was quoted by the Australian Broadcasting Corporation as saying. "We will continue our efforts in the International Whaling Commission to strongly oppose commercial whaling and so-called 'scientific' whaling, uphold the moratorium on commercial whaling, and to promote whale conservation," he added.
Sea Shepherd, the group which released the photographs of the dead minke whale, urged the government to take immediate measures to put an end to whaling incidents.
"Disappointment isn't going to cut it," Managing Director of Sea Shepherd, Jeff Hansen, said of Frydenberg's remarks.
"The Australian government promised action for the whales — in opposition they said there was blood in the water and a blind eye in Canberra. Now we have this whale being killed in the Australian-Antarctic sanctuary and the Australian government is silent.
"The Australian government needs to come clean and do the job that they should be doing, defending the whales in the southern ocean whale sanctuary. Chances are there's been a lot more whales being killed," he noted, ABC reported.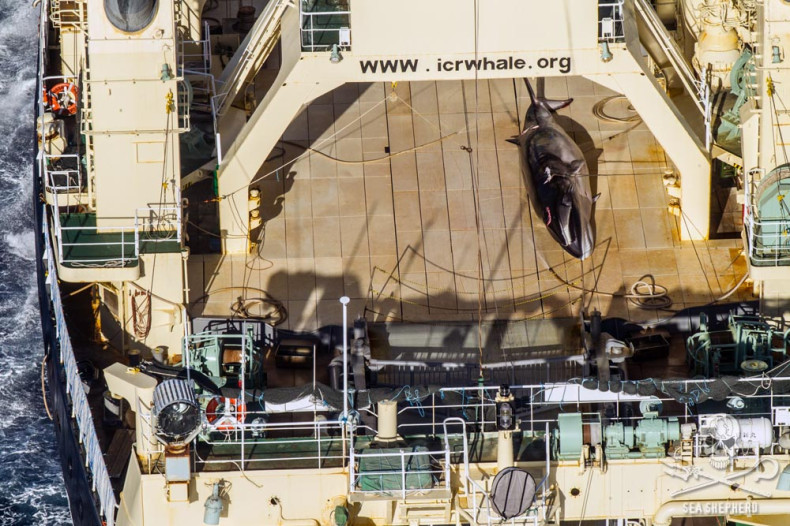 Hansen further said the fact that the whale killings were taking place while Abe and Turnbull were meeting on Australian soil was more disgusting. "This Japanese whaling fleet is heavily funded and backed by the Government of Japan — this is Shinzo Abe's whaling fleet," he said.
He added: "We should be talking tough and saying 'we're the country with all the resources you guys need, stop sending your whaling fleet into the southern ocean, into the Australian whale sanctuary, turn your boats back home back to Tokyo'."