An Australian eastern quoll has been discovered by the side of a road in New South Wales. The small, spotted marsupial had not been previously seen in mainland Australia for 53 years, and was believed to be extinct.
Eastern quolls were once common in south-eastern Australia, but were believed to have died out in 1963, due to habitat loss and predation from foxes. While they still remain abundant in Tasmania, there have been no confirmed sightings in Australia since then.
However, one specimen was discovered 27 years ago in Barrington Tops National Park, NSW, lying as roadkill. Experts initially thought the adult male – named 'Fluffy' – was a juvenile from Tasmania, but DNA analysis has recently revealed its closest relatives would have been from mainland Australia.
Fluffy was recently handed to the National Parks and Wildlife Service in Gloucester, NSW. He had been stuffed and used as a decoration by a member of the public, since finding him on the side of the road in 1989.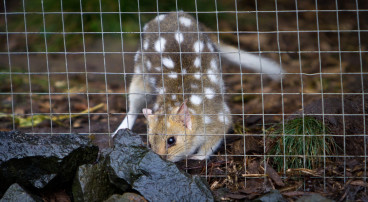 Scientists carried out DNA testing on the eastern quoll – which look like slightly large ferrets, and are a similar size to the average cat. He discovered that Fluffy was more genetically similar to the quolls which used to exist on Australia's mainland, than those found in Tasmania.
"That's the beauty of the modern age," Todd Soderquist told the Sydney Morning Herald. "We didn't have to guess – we could actually do the genetic analysis and come up with the answer that just left everyone breathless."
More still out there?
The discovery has led scientists to believe more eastern quolls may exist somewhere in Australia.
"There's every reason that there should be," said Mark Eldridge, researcher at the Australian Museum. "If they remained undetected for 30 years or so, then it's quite possible that they're still there, even if it is a small population."
A project to reintroduce eastern quolls into mainland Australia was announced in May 2015, and is expected to begin in 2016.