A man in Western Australia has suffered severe damage to both of his arms in a great white shark attack at a popular surfing spot. The shark was reportedly between between 3m and 4.5m long.
Dept Fisheries say the 23yo man who lost an arm and hand in Esperance was attacked by a white shark, 3m-4.5m long @perthnow

— Kaitlyn Offer (@KaitlynPST) October 2, 2014
The 23-year-old man was attacked at Kelpids Beach in Wylie Bay near Esperance, where an abalone diver was bitten on the head by a great white shark in 2013.
The caller who contacted St John's Ambulance said the surfer had lost both of his arms in the attack and a spokesman said he had suffered "quite severe trauma consistent with a shark attack", perthnow.com reports.
Great white sharks are common off the Western Australia coast. Surf Life Saving WA said that a 4m shark had been sighted at the West Beach Dalyup near Esperance on 21 September, and a day earlier two large white sharks had been spotted at the Kelpids Beach, east of Wylie Bay
Esperance Shire President Malcolm Heasman said the man's family had been notified of the attack and that the beaches in the area had been closed to the public.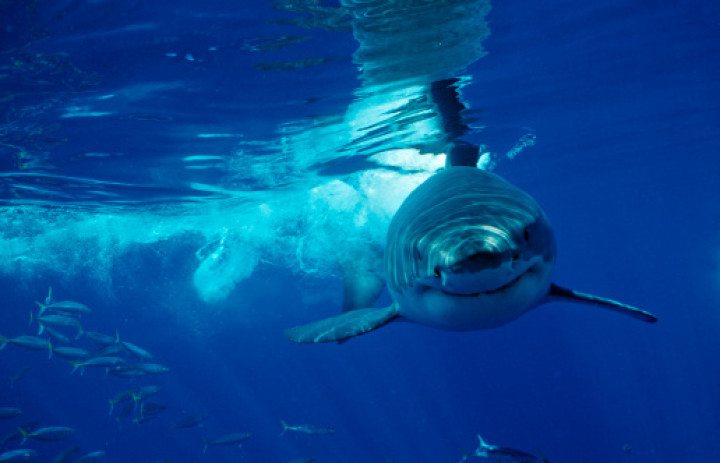 "There has been some increased (shark) activity out in Wylie Bay over several weeks. I got a phone call from someone a fortnight ago ... that there had been some increased shark activity," he said. "There has been something ongoing there for a while, we don't know what it is."
Heasman said the man's girlfriend was with him at the time of the attack and that he believes she is with him in hospital.
"He's lost the one arm apparently below the elbow and the other arm from the wrist," said Haesman. "We don't know if he's lost his wrist or just had it severely damaged... he also has lacerations to his leg. It's pretty severe. Our prayers and best wishes go out to him and his family."
The Fisheries Department announced it would be making an attempt to catch the shark as it could pose a "significant threat to public safety" during the school holidays. According to local journalist Phil Hickey, the shark has now been caught and will be "destroyed humanely".
"According to the Shire of Esperance the caught shark 'was fairly angry' and 'likely' to be the one which attacked the man today," he tweeted. "The decision has been made to destroy the caught shark humanely, says the Department of Fisheries."
The attack follows a decision by the WA government to abandon its controversial shark cull, which used baiting drum lines to catch sharks. However, the beach where the man was attacked would not have been protected by a drum line, Premier Colin Barnett said.