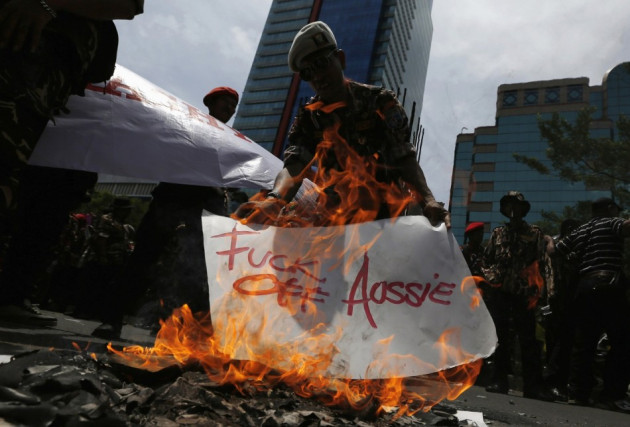 Indonesian demonstrators burned Australian flags and urged the government to take further diplomatic action against Canberra over reports it spied on President Susilo Bambang Yudhoyono, his wife and other senior officials.
Some 200 nationalists staged a protest outside the Australian embassy in Jakarta, demanding an official apology form Prime Minister Tony Abbott and calling for the ambassador, Greg Moriarty, to be thrown out of the country.
"If Australia does not apologise in 24 hours we will begin sweeping Australian citizens here," a demonstrator told The Australian.
The protest was organised by a coalition of nationalist groups including the Red and White Front and the FKPPI, but the turnout was smaller than expected.
"We are the people of Indonesia, we have the right to defend our country," a protester leader from the Red and White front told The Sydney Morning Herald. ''If it's not done, then don't blame us if we attack the embassy."
The Red and White front has a history of anti-Australian protest as it was involved in violent demonstrations against Canberra's military operation in East Timor in 1999.
Some protesters briefly scuffled with police, as security forces tried to prevent them to paint spray the embassy walls. The Australian embassy in Jakarta was hit by a car bomb allegedly detonated by Islamist extremists that killed 10 in 2004.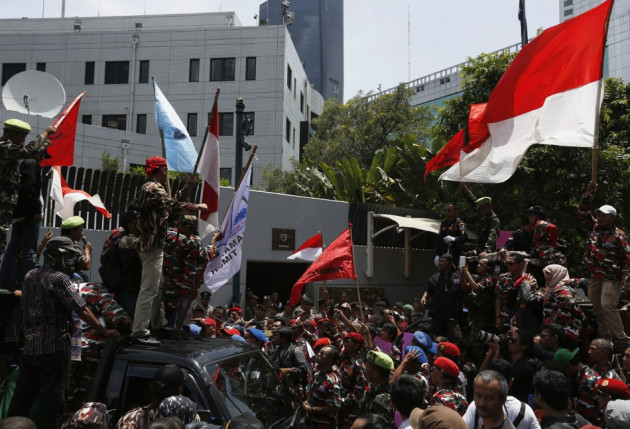 Ahead of the protest, Canberra updated its travel advice warning Australians to exercise a high degree of caution if visiting.
"Australians should monitor local media, avoid protests, maintain high levels of vigilance and security awareness," the travel advice read.
The protest came as Abbott attempted to pour water on the flaring diplomatic row with Jakarta, which was sparked by documents leaked by NSA whistleblower Edward Snowden.
Abbott pledged to provide a full and courteous response to a letter from Yudhoyono demanding an explanation over the alleged tapping of his phone by Australian intelligence agencies.
"I want to assure the House that the government will respond swiftly, fully and courteously to the president's letter," Abbott told the parliament.
"As always, my intention is to do everything I reasonably can to strengthen the relationship which is so important to both our countries," he added.
The row was ignited earlier this month by a first group of leaked documents that revealed the Australian embassy in Jakarta was used as a hub for US snooping.
A second tranche of documents later published by the Australian Broadcasting Corporation and the Guardian alleged that Canberra also carried out its own spying activities.
The Australian Defence Signals Directorate (now the Australian Signals Directorate) reportedly attempted to listen to Yudhoyono's phone conversations at least once and tracked calls made to and from his handset in 2009.
Yudhoyono, his wife and numerous government officials were also named in an intelligence list of monitoring targets.
Analysts said the scandal sent the volatile relationship between Canberra and Jakarta plummeting to its lowest point since the 1999 crisis.
Jalkarta has recalled its ambassador and suspended military and intelligence cooperation with Australia.