Space debris needs to be destroyed to avoid a real life version of the collision disaster scenario in the Oscar-winning film Gravity, according to Australian scientists.
Astronomers from the Australian National University have said they will destroy such debris with lasers. The film, which picked up seven gongs at this year's Academy Awards, features George Clooney and Sandra Bullock drifting in space after satellite debris strikes their spacecraft.
Matthew Collness, head of the Research School of Astronomy and Astrophysics at the university, said: "We now want to clean up space to avoid the growing risks of collisions and to make sure we don't have the kind of event portrayed in Gravity."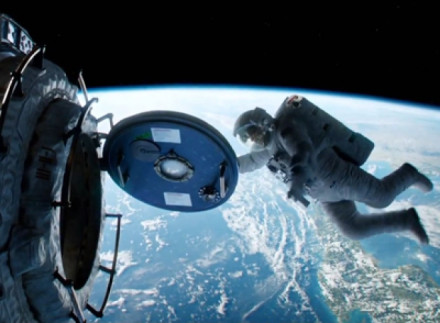 The new Space Environment Management Cooperative Research Centre will begin to research on how to monitor small pieces of debris later this year. The programme will largely be based at Mount Stromlo Observatory in Canberra.
The aim of the programme is to hit the objects with lasers positioned on Earth, to change their trajectory.
In doing so, the items will slow down and fall back into the atmosphere where they will burn up and disintegrate.
In 2013, scientists estimated there are nearly 30,000 items larger than 10cm circling the planet. While some are whole satellites and rocket bodies, most of just fragments that have occurred as a result of explosions from fuel tanks and impacts between objects.
At the 6th European Conference on Space Debris last year, which was held in Darmstadt, Germany, it was agreed that there was an "urgent need" to destroy the potentially harmful debris.
Colless said: "There are hundred of thousands of pieces of space junk in orbit that are big enough to do series damage to a satellite or space station. Everywhere humans have been in space, we leave some trash behind."
The centre is expected to be in operation by the summer and will include Mouth Stromlo-based EOS Space Systems, Lockheed Martin, the NASA Ames Research Centre, Japan's National Institute of Communications Technology and Australia's RMIT University.
The telecommunications firm Optus will also be involved in the scheme.
Ben Green, chief executive of the centre, has warned of the risks the items pose to satellites and space exploration.
Green said: "There is now so much debris that it is colliding with itself, making an already big problem even bigger. A catastrophic avalanche of collisions that would quickly destroy all satellites is now possible."
He added: "Our initial aim is to reduce the rate of debris proliferation due to new collisions, and then to remove debris by using ground-based lasers."