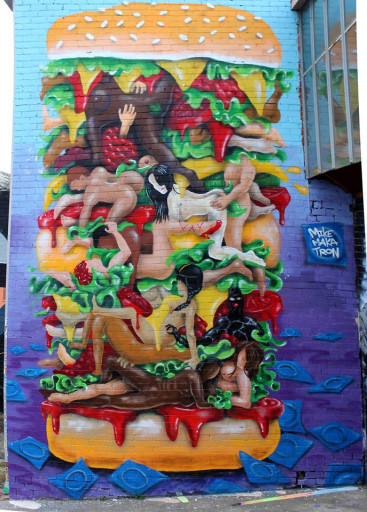 An Australian street artist's saucy burger mural has left some Melbourne residents a bit hot under the collar and now local authorities are threatening to have it removed because of its sexual content.
When Mike Makatron, 35, was asked to decorate the side of the Rathdowne Fabrics factory in the artsy suburb of Moreland, he decided to depict people copulating between two sesame seed buns, as a critic to the exploitation of sex and women's bodies "to sell anything".
"It's also a mash up celebration of human diversity, body shapes, colours and tastes of all types of people," he told IBTimes UK.
The Kama Sutra Burger, however, proved to be too hot for some local residents, who complained about its explicit content to the city council, which, in turn, asked building owner Dean Sunshine to delete it.
The censorial demand was picked up by local media, triggering an online debate, with some users also launching a petition to save the risqué painting. "This is a complete over-the-top reaction," the appeal read. "The public is mature enough to deal with the slightest suggestion of sexual behaviour, especially when so skilfully hidden within a beautiful juicy burger."
The council consequently backed down, contacted Makatron and Sunshine, and has decided to meet later in October to find an agreed solution. "I think they don't want to be seen as too overbearing," he said, adding he was surprised at the removal request. "I understand why some people don't like it. But I don't think it's that graphic."
Moreland mayor Meghan Hopper told the Sydney Morning Herald the work blurred "some public suitability lines on what could be considered offensive" and they had thus asked Makatron to edit it. "I think I will add a little more lettuce in some parts and some cheese," the artist concluded.