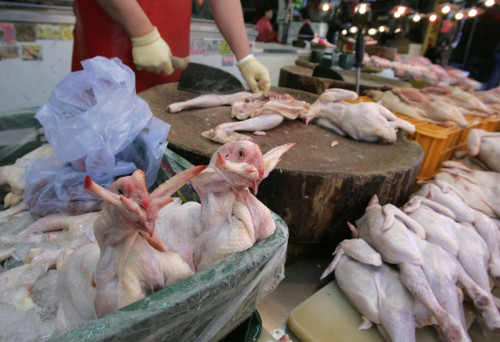 After culling over 640,000 poultry since bird flu was detected on 17 January, South Korea has imposed a 12-hour lockdown on fowl farms, restricting movement for not only animals, but also for people and vehicles.
The 12-hour lockdown went into effect at all poultry farms in three provinces of Gyeonggi, North and South Chungcheong.
"The government is working with district governments to simultaneously inspect and sterilize infection sources to prevent a further spread of avian influenza and terminate the disease at an early date," Lee Joon-won, deputy minister of agriculture told a press briefing.
The flu was suspected to be moving northwards towards the capital city, despite concerted efforts by the state administration to rein in the flu.
As yet, Seoul is excluded from the rare and unusual lockdown, but government was considering ordering a nationwide suspension of all poultry farms in the country to prevent the avian influenza virus to spread any further.
The coming Lunar New Year holidays towards the end of this month will see mass cross-country movement of people, especially to and from rural areas, which may lead to rapid proliferation of the flu.
"This catastrophe is overshadowing and unnerving the whole village. I told my children never even dream of coming home this year," a resident from Gochang told Maeil Business Newspaper in Korea.
"What holiday? I'm too busy protecting my ducks!" said another poultry farmer in Gochang, the rural county most affected by the bird flu epidemic.
The Ministry of Agriculture, Food and Rural Affairs said that it is compelled to enforce tough measures as bird flu spreads faster in chickens, because they are more susceptible than ducks to catch the infection. Besides, chicken outnumber ducks five to one, and can potentially spell disaster on farmers.
"The decision is based on our livestock quarantine committee's view that avian influenza spreads faster among chickens and preventive culls are needed to avoid additional sporadic flare-ups," agriculture ministry spokesperson told the Korea Times.
The H5N8 strain of bird flu has since been identified in 17 other farms, with tests currently under way for 50 other suspected cases, according to the Korea Herald.
No human infection has been reported so far.
Over 1.4 million farm birds will be slaughtered in the affected provinces, according to the ministry.
The government suspects that the flu originated from the migratory ducks, Baikal teals, which are common vectors of the H5N8 strain.
Earlier this week, bodies of about 60 Baikal teals were found near the Dongrim Reservoir, which were later confirmed to have died of the avian infection.
Since the teals travel from south to north in Korea, authorities fear the virus could have spread nationwide.
The ministry added that this could mean the area affected by the outbreak is far larger than previously thought and it could be harder to contain it.
Korea has had four bird flu epidemics in the last decade, even though the virus was never reported to have spread to humans.