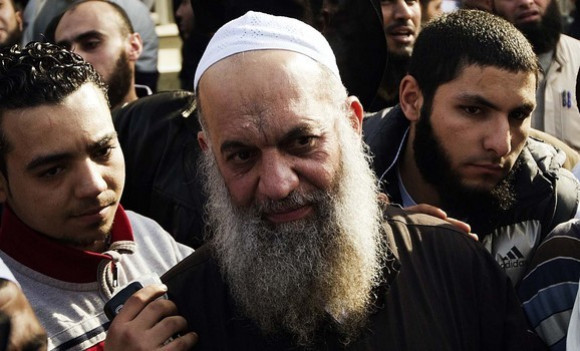 The brother of al-Qaida leader Ayman al-Zawahri has been arrested in Egypt, a security official said, as lawlessness threatened to engulf the country.
Mohammed al-Zawahri, the leader of the Salafist religious group, was detained at a checkpoint in Giza, the official said.
Zawahri had been a vocal supporter of ousted President Mohammed Morsi and his Muslim Brotherhood movement, and had previously commanded insurgents in the Sinai peninsula, the sources said.
He had been a member of Islamic Jihad and was one of 14 people subject to extraordinary rendition at the hands of the CIA, sources said.
Zawahri had been sentenced to death by an Egyptian court for terrorist offences following his arrest in the UAE in 2000, but was released from prison following the revolution of 2011.
He had previously co-ordinated mujahideen campaigns in the Balkans at the behest of his older brother.
Mohammed al-Zawahri was transferred from a police station to the maximum security Aqrab prison, following concerns that his supporters would try to free him from the police station, the sources said.
He once had a £15-million bounty on his head, and five years ago survived a targeted missile strike.
His brother Ayman has been called the "operational brains" behind the 9/11 attacks, and is said to have given the approval for the 7/7 bombings in London. He was sentenced to death in absentia by an Egyptian military court in 1999.
At least 173 people died amid clashes between Muslim Brotherhood supporters and security forces on Friday, authorities said.
Among the dead was Ammar Badie, the son of Muslim Brotherhood leader Mohammed Badie, the Brotherhood's Freedom and Justice Party said.
Badie, a 38-year-old, computer engineer, was shot dead in Cairo's Ramses Square, the party said on its website.
His father, who faces trial later this month on charges of inciting violence, remains at large.
More than 1,000 Muslim Brotherhood supporters were arrested during the protests on Friday, the interior ministry said.
The 17-year-old daughter of senior Brotherhood leader Mohammed el Beltagy was among those killed on Wednesday, it emerged.
In separate developments, the prominent Freedom and Justice Party member, Gamal Heshmat, has been arrested, according to a statement from the Anti Coup Alliance, while the son of Hassan Malek, another Brotherhood leader, was also detained, according to Reuters.