Azaadi: Indians debate 'freedom' as JNU student leader Kanhaiya Kumar released on bail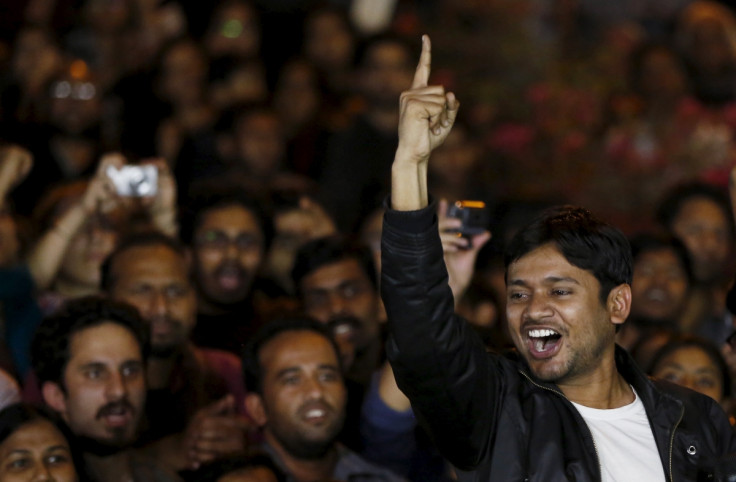 Indian student leader Kanhaiya Kumar delivered a passionate speech on 3 March after being released on bail from Tihar Jail. The Jawaharlal Nehru University (JNU) student union president was arrested in February on charges of sedition, sparking a fiery debate in the country about freedom of expression versus nationalism.
The Indian government, under Prime Minister Narendra Modi, defended the arrest of Kumar and two other JNU students, saying that the students were supporting the Kashmiri separatist movement and the break-up of India. Government supporters have echoed these views, referring to the students as "anti-national" and strongly criticising them on social media.
However, the opposition parties have condemned Modi's government, accusing it of cracking down on freedom of expression in the country. Over the past few weeks a number of Twitter hashtags have demonstrated the increasing frustration against Modi and his Bharatiya Janata Party (BJP), including #IndiaAgainstBJP and #AntiStudentModi. On 4 March the hashtag #BhaktsHateAzaadi was also trending nationwide, with Bhakts referring to government-supporters.
Upon his release, Kumar returned to his university – which has been the scene of multiple solidarity protests since his arrest – to deliver a powerful speech. During the speech, Kumar stated that the people of India wanted "Azaadi (freedom) in India", not "from India". The student union president's comments have sparked yet another clash between government supporters and supporters of the student leader, with the hashtag #Azaadi (freedom) trending nationwide on Twitter on 4 March as the country discussed what freedom meant to them.
Pro-government supporters have said that they want freedom from "terrorists", while Kumar-supporters have echoed his sentiments of wanting freedom from the government crackdown. The Twitter debate provides an accurate insight into the current ongoing JNU row in India, with both sides refusing to back down.
Pro-government supporters
Pro-Kumar supporters
© Copyright IBTimes 2023. All rights reserved.