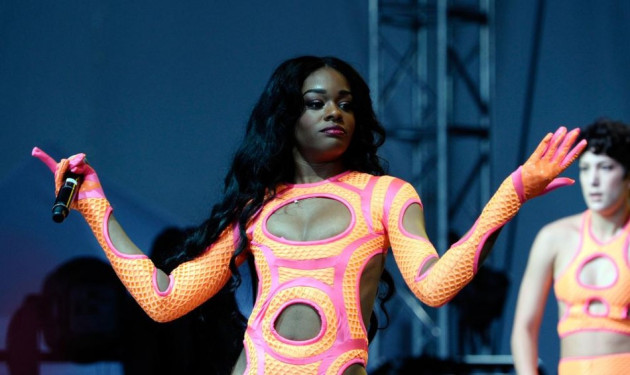 Azealia Banks stormed off stage just 90 seconds into her Australian gig after a fan hurled a can of beer at her.
The New York-based rapper was performing her track ATM Jam at the Listen Out Festival in Melbourne, when an unruly concert-goer threw the object on stage.
In a clip posted online, a furious Banks can be seen tossing her microphone to the floor before marching off the stage.
According to the star's representative, Azealia and her stage crew felt 'unsafe' after the incident.
"Azealia Banks was forced to cut her set short last night at the Listen Out Festival in Melbourne on 5 October 2013," an official statement read.
"This was as a result of a member of the audience throwing a full can of beer at her on stage. The incident made Azealia and her stage crew feel unsafe. Banks would like to apologise to those fans in the audience whose experience was affected by the behavior of one individual."
Banks later apologised to fans on Twitter: "Sorry to all the festival-goers in Melbourne !!!!! See ya tomorrow in Brisbane !!!!!"
The hip-hop artist was the target of a similar attack during the Sydney-leg of the festival when a can of beer was thrown at her 15 minutes into her 50-minute headline set.