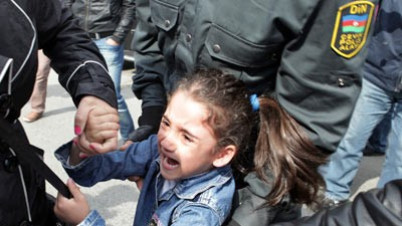 In a report entitled "The spring that never blossomed: Freedoms suppressed in Azerbaijan", the U.K.-based human rights group accuses Azerbaijan's ruling elites of perpetrating "a clampdown on dissent" in the wake of Arab-inspired protests in the capital Baku.
Amnesty claims the Azeri government has jailed youth activists and opposition figures on "trumped up charges" and says it considers 17 people convicted around the time of the March/April protests as "prisoners of conscience."
The office of the Azeri President has not publicly commented on the report's findings.
The report documents the history of repression in Azerbaijan since the country gained independence following the collapse of the Soviet Union in 1991. Amnesty says that in recent years the authorities in the oil-rich republic have "stepped up their harassment and intimidation of individuals because of their known or perceived political, religious, or civil society activities."
In March 2011, inspired by the popular uprisings sweeping across the Arab world, activists in Azerbaijan used social networks to coordinate virtual, and then actual protests in the capital Baku. These demonstrations were quickly supressed by the Azeri authorities, and many of the activists detained or jailed.
"The clampdown has sent out a clear and calculated message - that public expression of dissent will not be tolerated, and nor will any attempt to galvanize public opinion against the current regime," said Natalia Nozadze, Amnesty International's Azerbaijan researcher.
"The European Union and other international partners of Azerbaijan must take every opportunity to press for the release of the prisoners of conscience and to put an end to the suppression of peaceful protest, critical opinion and political opposition," she added.
Amnesty says that the political elite continue to use "criminal and civil defamation charges" to "silence critical media", and claims that "the government is also currently considering laws that could potentially restrict web users' access to information and criminalizing 'misinformation', further restricting online freedom of expression."
"In oil-rich Azerbaijan, 20 years of independence, economic prosperity and relative stability have failed to translate into greater fundamental freedoms for its citizens while the consolidation of authoritarian rule over the last decade has been largely ignored by the outside world," said Natalia Nozadze.
In March 2005, independent Azeri journalist Elmar Hüseynov was murdered in unknown circumstances in the capital Baku. Hüseynov was known for his harsh criticism of the country's authorities and had previously been convicted for "insulting the nation." Amnesty says is death has "still not been effectively investigated."