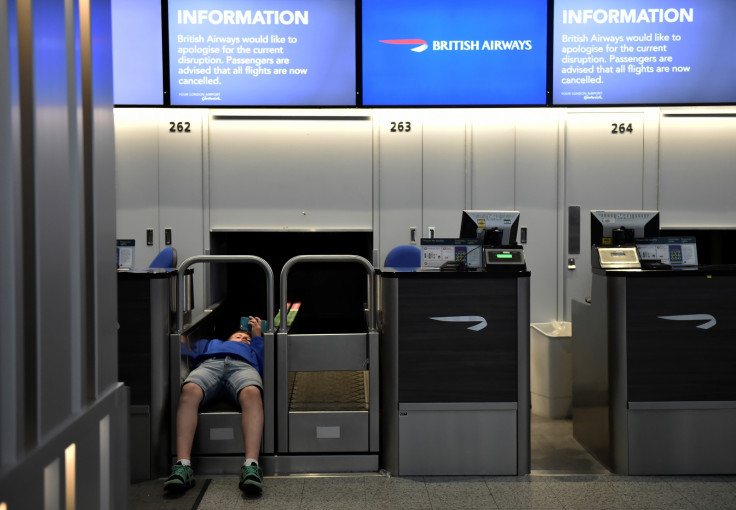 British Airways is operating a full flight schedule at London airports on 30 May after a worldwide IT outage led to 75,000 passengers being stranded over the bank holiday weekend.
In a statement, BA said its IT systems were "back up and running" and that flights will be operating as normal at Heathrow and Gatwick.
However, the airline warned that "it may take some time" for baggage to be reunited with their correct owners who were affected when the computer failure occurred on 27 May.
"Although we have already flown many bags to the correct airport, there is still some work to do and we know there are still significant numbers of customers who are yet to receive their luggage," it said.
"Given the nature of global travel, it may take some time to complete the process of reuniting bags with their owners around the world.
"We are very sorry for the frustration this situation is causing at a very busy time of year for holidays."
BA chief executive Alex Cruz blamed the IT failure on a power surge and promised that the airline would compensate the customers whose travel plans were disrupted over the weekend.
He denied cost-cutting had in any way contributed to the problem and rejected calls for him to resign.
"We do apologise profusely for the hardship that these customers of ours have had to go through," Cruz told Sky News.
"We know that there have been holidays interrupted and personal events that have been interrupted and people waiting in queues for a really long time.
"We absolutely profusely apologise for that and we are absolutely committed to provide and abide by the compensation rules that are currently in place."
Analysts said the IT outage could end up costing BA as much as £100m ($128m) in compensation to customers, including refreshments and reimbursements for hotel expenses.
Shares of IAG – the parent company behind BA – opened 4% lower in London on 30 May.