Babcock International Group, an engineering support services company, believes that it is well placed to gain from the size of its business, the width of its experience and track record of delivering operational and financial effectiveness in the current economic environment.
The group is scheduled to release its trading update on Tuesday with optimism on the important markets in which it runs remain attractive and the existing economic situation will continue to generate medium and long-term development prospects both in the UK and abroad.
Babcock continues to benefit from exceptional visibility through its long-term agreements, well-built order book and bid pipeline. The group therefore remains positive on delivering excellent performance for the current financial year, in line with its expectations and it also looks forward to deliver this further in FY 2012-13.
The British defence services group said today that it has won a £350 million contract to upgrade a Royal Navy nuclear deterrent submarine. The upgrade is expected to take three and a half years and will include the installation of improved missile launch equipment, upgraded computer systems and a new nuclear core to power the 15,000 tonne vessel. The deal is expected to create 1,000 jobs at Babcock in Plymouth, south west England and further 1,000 jobs in the supply chain.
In January 2012, the group has been awarded a new seven year agreement to deliver education and inclusion support and improvement services to schools in Devon by Devon County Council (DCC), with an estimated order of £125 million over the period and will be operated through a new partnership between Babcock and DCC. The contract is expected to start in April 2012.
During the same month, the group also won a new 10 year contract to continue providing services relating to the transmission and distribution of radio and television for the BBC World Service, worth c £200 million over the 10 year period and it is planned to make sure that the BBC gets the best value for money programme that continues to deliver high levels of service for its audience. The contract will start on 1 April 2012.
Apart from that, Babcock's joint venture (JV), AMEC and Mott MacDonald Group has been awarded a five year extension to its existing Electricity Alliance West framework agreement to maintain and upgrade overhead power lines across the United Kingdom with an estimated total value of c £650 million and will ensure the JV continue to provide design engineering, programme management and construction services through to March 2017.
Below is a summary of sector comparisons in terms of price earnings, earnings per share, dividend per share, dividend yields, return on equity and price-to-book ratio. The table explains how the company is performing against its peers/competitors in the sector. The table below represents top ten companies based on market capitalisation.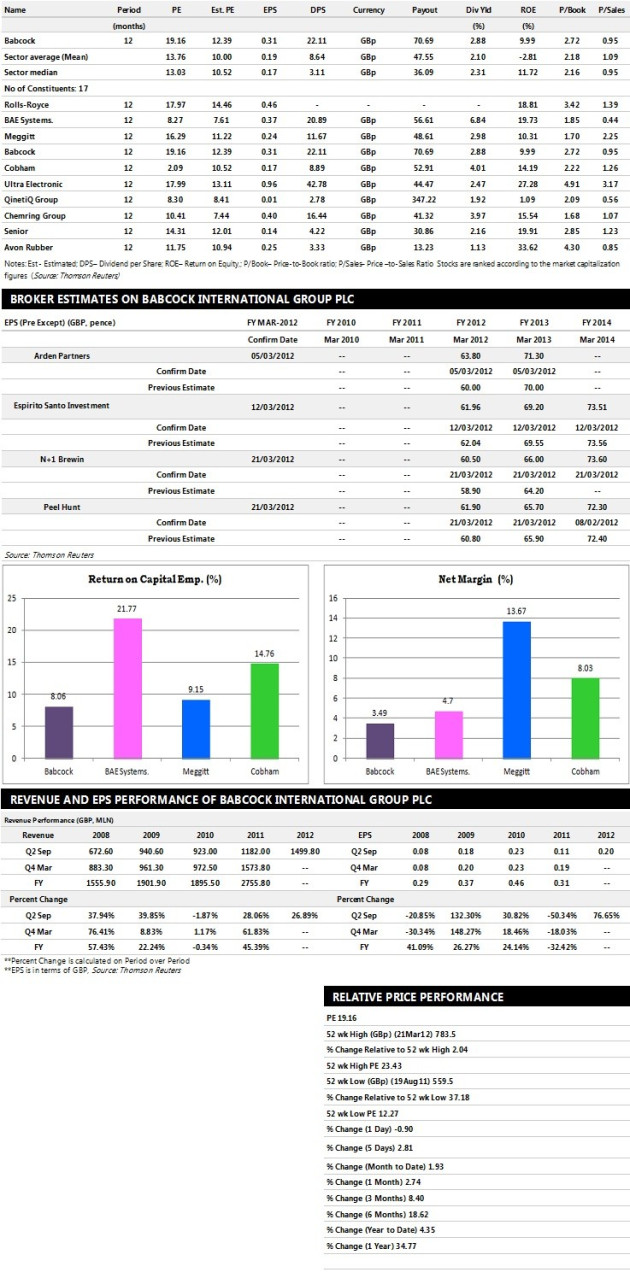 Brokers' Views:

- N+1 Brewin recommends 'Hold' rating on the stock with a target price of 790 pence per share
- Peel Hunt assigns 'Buy' rating with a target price of 855 pence per share
- Espirito Santo Investment Bank gives 'Outperform' rating with a target price of 810 pence per share
- Arden Partners assigns 'Buy' rating with a target price of 755 pence per share.
Earnings Outlook:

- Peel Hunt estimates the company to report revenues of £3,337.30 million and £3,499.00 million for the FY 2012 and FY 2013 respectively with pre-tax profits (pre-except) of £279.90 million and £313.10 million. Earnings per share are projected at 61.90 pence for FY 2012 and 65.70 pence for FY 2013.
- N+1 Brewin projects the company to record revenues of £3,460 million for the FY 2012 and £3,632 million for the FY 2013 with pre-tax profits (pre-except) of £281.50 million and £306.80 million respectively. Profit per share is estimated at 60.50 pence and 66.00 pence for the same periods.
- Espirito Santo Investment Bank expects the group to earn revenues of £3,454 million for the FY 2012 and £3,679 million for the FY 2013 with pre-tax profits of £282.90 million and £317.40 million respectively. EPS is projected at 61.96 pence for FY 2012 and 69.20 pence for FY 2013.