Forget about milk cartons – the websites of several major Chinese household brands such as smartphone manufacturer Huawei and internet search giant Tencent are now using 404 error pages to promote missing children, in a bid to combat child trafficking and help parents track down their loved ones.
If a user tries to access a webpage that no longer exists on one of these websites, the website owner responds with a page that reads in large letters, "404, we cannot find the page you want to visit, but we can help bring them home!" Beneath the sign, a listing provides the name, photo, date of birth and identifying features of a missing child, as well as other details about when the child disappeared.
The initiative is part of a collaboration with "Baby Come Home" (Bao Bei Hui Jia), a registered Chinese non-profit run by volunteers that seeks to track down children who have been lost, abducted or abandoned, as well as to provide aid to children found wandering the streets and begging.
The website enables parents to register missing people and to communicate with other volunteers on a forum to try to find them, supported by China's Ministry of Public Security.
According to recent statistics reported by Chinese state media, over 200,000 children go missing annually in China, and only 0.1% are ever reunited with their children. According to the China Policy Institute, the numbers are so high because it is hugely profitable to abduct and sell children, and sometimes, parents who cannot afford to feed their offspring consider selling them too.
Child trafficking is profitable and hard to detect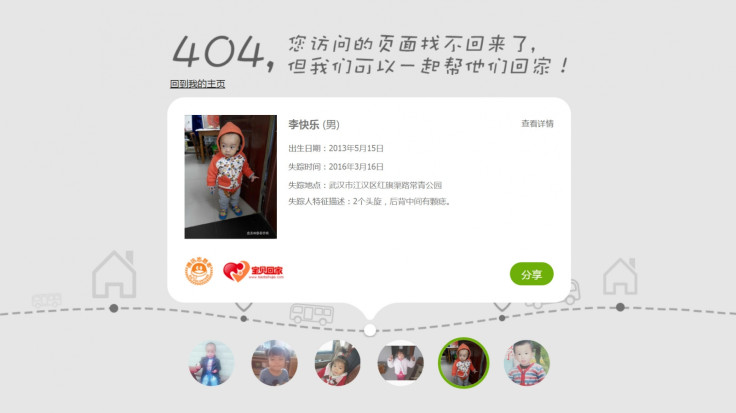 Local news reports say the current going rate for each child is between CNY90,000 – CNY375,000 ($13,111-$55,000, £10,500-£43,753). Baby Come Home is currently trying to locate the whereabouts of 33,133 people, although not all of them are children.
The organisation says that it has so far successfully located 1,818 abducted, trafficked, runaway and lost children between the ages of 2 up to 15. However, sadly in many cases it has taken years to track the missing persons down, and most of them have only been successfully traced as adults. In one case, a child in three days, and another in five years, but mostly it has taken decades to reunite these missing children with their families.
The 404 error pages showing missing children are possible due to a special JavaScript code designed by Tencent employees that automatically pulls in latest data on missing people to show it in an attention-grabbing interface.
Any website can show missing children on its public 404 error pages simply by embedding the code on this page, and the code is optimisable to work on mobile devices too. The code is part of the "Tencent Volunteers" programme, set up in 2012 by employees to provide public service projects using Tencent innovations.
404 error page concept originally came from Europe
Although it is rare to see 404 error pages being used for public announcements, this is actually not a new idea – it was actually developed by several European organisations in 2012 including Missing Children Europe, Child Focus and the European Federation for Missing and Sexually Exploited Children.
The "NotFound" initiative, supported by the European Union and Amazon Web Services, aims to use customised 404 pages to raise awareness about missing children. There are currently 5,491 websites from across Europe that are part of the programme, but none of the UK websites listed have particularly high numbers of visitors.
China's Ministry of Public Security says that 611 missing children were found in 2016, in part due to assistance from a mobile app developed by Alibaba Group, which enables the police to work together with the public and raise awareness by sending push alerts to users' phones containing photos and details of missing children located in close vicinity to the user.
The app also collaborates with other popular mobile apps to send out alerts, including Tencent's hugely popular messaging app QQ, ride-share app Didi Chuxing and Alibaba's online shopping site Taobao.