Back in the USSR: Mikhail Gorbachev sings about peace and love on his 85th birthday
Former leader of the USSR recalls happier days.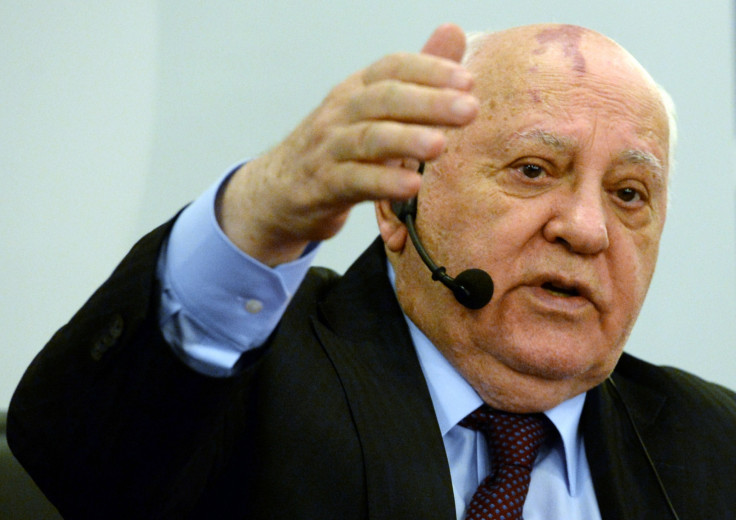 Remember a kinder, gentler Russian leader? Old Soviet boss and Nobel Peace Prize winner Mikhail Gorbachev reminded supporters that such a person existed with a song about peace and love at his 85th birthday celebration.
"Even after knowing the president of the USSR for decades, I was shocked," Olga Bychkova, one of the hosts of a Moscow radio, said after hearing the former leader. "I had no idea he could sing!"
Those who have been paying closer attention knew that the famous reformer, who launched his major democratic Perestroika changes to become the first elected president of the USSR, could croon. In 2009 he produced an album of love ballads to raise money for a charity in honour of his late wife, Raisa.
This time he sang in Ukrainian, according to City Life TV. What was also striking was that he was accompanied by dissident rock star Andrey Makarevich, whose concerts have been cancelled across the country by current leaders because of the musician's support for the Ukraine.
"Freedom of speech was the most important aspect," at the time of his Soviet reforms, Gorbachev, who was born to a Russian-Ukrainian family, told the Daily Beast after the celebration. "We needed Glasnost (free speech) very much. We needed democratic elections, the removal of [absolute] power from the government."
He's isn't happy about where Russia is going today. "Fear is very bad and very dangerous," added Gorbachev. "When people are scared of the political power, things might turn out in the worst way."
He added: "We need dialogue between society and those in power, especially dialogue about the most acute issues. I keep saying: we should not be afraid of our people.
"I hope that we will stick to our original Perestroika ideas and not invent some dubious projects that look more like somebody's artificial plot, created by passionate desire to grab and possess."
Gorbachev, who considers himself one of the leaders of the "anti-Stalinist" Russians, is controversial in his homeland, where some consider him a traitor whose policies triggered the collapse of the Soviet empire.
He has been rumoured to have died a number of times in the past few of years. In 2013 Gorbachev told Der Spiegel that"political circles" were behind the rumours. In an announcement, he accused those behind the rumours of "hoping in vain" and added: "I'm alive and well."
© Copyright IBTimes 2023. All rights reserved.