It was Leonardo DiCaprio's night at the EE Bafta awards as The Revenant swept the boards at the prestigious British awards. While the Hollywood star walked away with the coveted Best Actor award for his performance in The Revenant, the film also took the top prizes in all the major categories including best picture, best director for Alejandro González Iñárritu, best sound and best cinematography.
Nominated three times before for The Aviator, The Departed and The Wolf of Wall Street, the award marked DiCaprio first ever Bafta win.
Accepting the award from Tom Cruise, in an impassioned speech DiCaprio said he was "absolutely humbled and honoured by the award". The actor who is also hotly tipped to win his first Oscar for the film, said he had been hugely influenced by British actors including Tom Courtenay, Gary Oldman, Peter O'Toole and Daniel Day Lewis.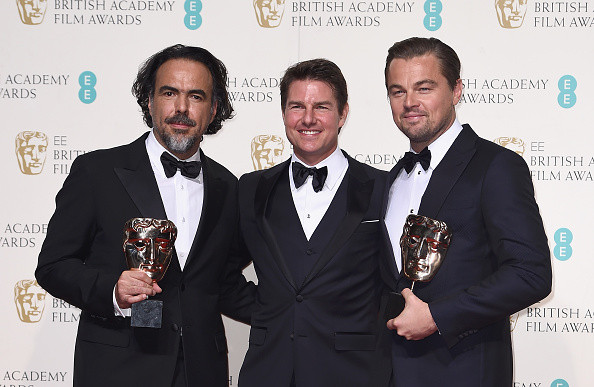 Thanking co-star British actor Tom Hardy he said: "I want to thank you for your fierce loyalty as a collaborator and as friend. I could not have done this journey without you."
After expressing his gratitude to his fellow cast members and crew he saved his biggest acknowledgment for his mother. "There's one person I have to thank," he said. "I didn't grow up in a life of privilege. I lived in a rough neighbourhood and this woman drove me three hours to get me to a different school. Mum happy birthday I love you very much."
DiCaprio's night started off well as, in honour of Valentine's Day the Kiss Cam was aimed directly at the 41-year-old and 81-year-old Harry Potter actress Dame Maggie Smith. The Titanic star gamely planted a kiss on the cheek of the actress.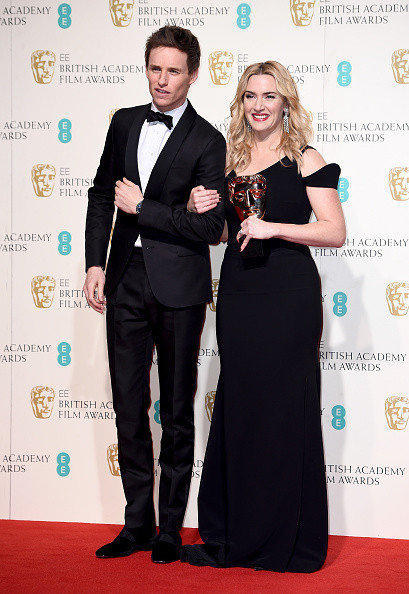 It was also a good night for DiCaprio's Titanic co-star Kate Winslet who took the Best Supporting actress award, her third Bafta, for her performance in the Steve Jobs film. Accepting her award she said: "What an incredible year to be nominated. It's been an extraordinary year for women and I feel incredibly proud to stand alongside you all ... I really am overwhelmed."
Winslet and DiCaprio have remained close friends since they starred in Cameron Crowe's epic film Titanic twenty years ago.
George Miller's Mad Max: Fury Road, was another big winner on the night, taking four awards, most of them technical. Star Wars: The Force Awakens, won the Bafta for best special effects while the rising star award went to John Boyega.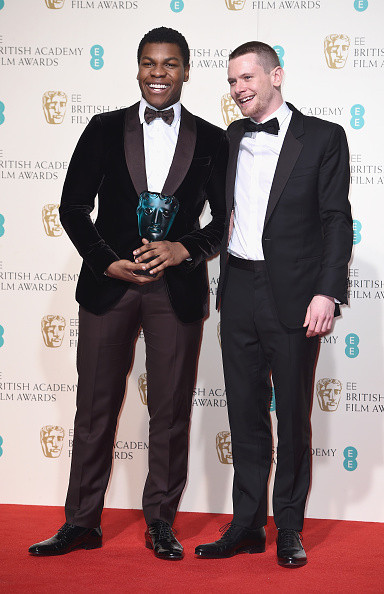 "First and foremost I want to thank god for this moment," said an elated Boyega. "I haven't been doing this for a long time. It's a fluke. And I want to share this award with all the young dreamers who are hardworking talented and quite frankly amazing. Blessed to your path."
The coveted Leading Actress prize was the surprise of the night going to breakout star Brie Larson for Room, however, the 26-year-old was a no-show at the ceremony due to filming commitments in Australia.
Despite being the frontrunners coming into the awards, Carol went home empty handed. Steven Spielberg's Bridge of Spies took the best supporting actor award for Mark Rylance's performance.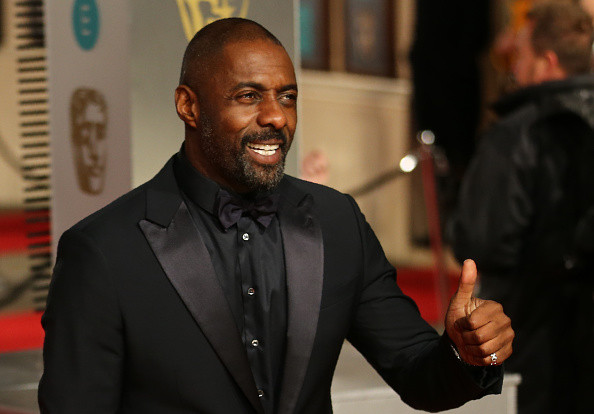 Quentin Tarrantino's The Hateful Eight was awarded Original Music for Ennio Morricone's score while The Amy Winehouse film Amy, directed by Asif Kapadia and James Gay-Rees, took home the best Documentary award.
Inside Out won the prize for Animated Film, while Outstanding Debut went to Naji Abu Nowar for Theeb, and best Adapted Screenplay went to The Big Short.
Angels Costumes received a special shout out thanks to the Outstanding British Contribution to Cinema award and the Fellowship Recipient was Sir Sidney Poitier.
Spotlight's Tom McCarthy and Josh Singer were given the Original Screenplay prize, while the Film Not in the English Language prize went to Wild Tales.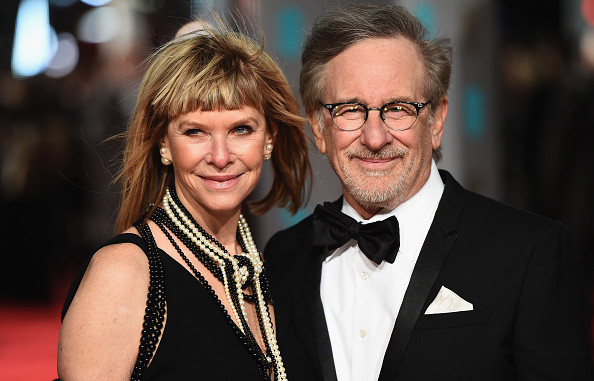 The night was not without its share of controversy as a small protest was staged outside the Royal Opera house decrying the lack of representation of black nominees. The #baftablackout protesters carried a banner which read: "The TV and film industry are male, pale and stale. In fear of diversity, opportunity and inclusion."
Sacha Baron Cohen later pointedly joked that he was presenting the "leading white actress award". This year's Bafta fellowship was given to Sir Sidney Poitier, who turns 89 on Friday.
With a veritable who's who of the movie world in attendance the event boasted an illustrious list of guests that included Steven Spielberg, Leonardo DiCaprio, Eddie Redmayne, Kate Winslet, Julianne Moore, Michael Fassbender, Matt Damon, Johnl Boyega, Tom Cruise, Julie Walters, Angela Bassett, Benicio Del Toro, Alicia Vikander, Rooney Mara, Amy director Asif Kapadia, Gemma Chan and Rebel Wilson who was a winner in her own special way.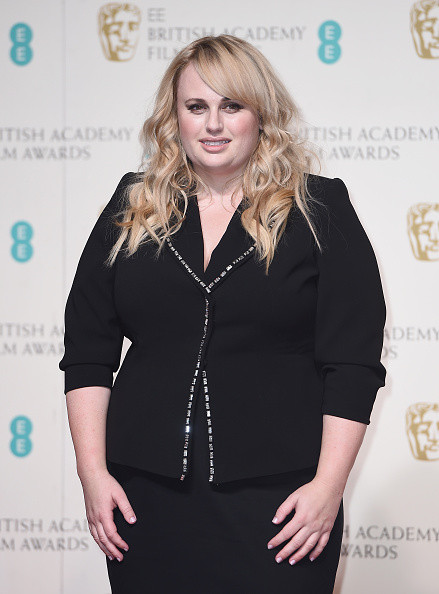 After locking lips with Eddie Izzard for the Kiss Cam Rebel Wilson won the biggest laughs of the night as she introduced the nominees in the Best supporting actor category. "I have never been invited to the Oscars because as you know they are racist," she joked. "But the Baftas has diverse members and that's what we all want to see – diverse members."
Her comments did however spark controversy with some social media users who took offence. While she acknowledged her lack of a nomination she said she was hoping to be a contender next year. "I have already been pracitising my transgender face."
Turning her attention to newly single Idris Elba she added: "Idris you're making me nervous. I am sociologically programmed to want chocolate on Valentines day."
THE EE BRITISH ACADEMY FILM AWARDS 2016 WINNERS
BEST ACTOR
Eddie Redmayne, The Danish Girl
Leonardo DiCaprio, The Revenant
Bryan Cranston, Trumbo
Matt Damon, The Martian
Michael Fassbender, Steve Jobs
BEST ACTRESS
Cate Blanchett, Carol
Alicia Vikander, The Danish Girl
Dame Maggie Smith, The Lady In The Van
Saoirse Ronan, Brooklyn
Brie Larson, Room
BEST FILM
Carol
Bridge Of Spies
The Revenant
The Big Short
Spotlight
SUPPORTING ACTOR
Benicio del Toro, Sicario
Mark Ruffalo, Spotlight
Christian Bale, The Big Short
Idris Elba, Beasts Of No Nation
Mark Rylance, Bridge Of Spies
SUPPORTING ACTRESS
Rooney Mara, Carol
Kate Winslet, Steve Jobs
Alicia Vikander, Ex Machina
Julie Walters, Brooklyn
Jennifer Jason Leigh, The Hateful Eight
OUTSTANDING BRITISH FILM
45 Years
Amy
Brooklyn
The Danish Girl
Ex Machina
The Lobster
DIRECTOR
Adam McKay, The Big Short
Steven Spielberg, Bridge of Spies
Todd Haynes, Carol
Ridley Scott, The Martian
Alejandro G Inarritu, The Revenant
ADAPTED SCREENPLAY
Room
Steve Jobs
Brooklyn
Carol
The Big Short
ORIGINAL SCREENPLAY
The Hateful Eight
Inside Out
Spotlight
Ex Machina
Bridge of Spies
EE BAFTA RISING STAR
Dakota Johnson
John Boyega
Brie Larson
Taron Egerton
Bel Powley
DOCUMENTARY
Amy
Cartel Land
He Named Me Malala
Listen To Me Marlon
Sherpa
CINEMATOGRAPHY
Janusz Kamiński, Bridge of Spies
Ed Lachman, Carol
John Seale, Mad Max: Fury Road
Emmanuel Lubezki, The Revenant
Roger Deakins, Sicario
FILM NOT IN THE ENGLISH LANGUAGE
The Assassin
Force Majeure
Theeb
Timbuktu
Wild Tales
ANIMATED FILM
Inside Out
Minions
Shaun The Sheep
OUTSTANDING DEBUT BY A BRITISH WRITER, DIRECTOR OR PRODUCER
Alex Garland (Director) Ex Machina
Debbie Tucker Green (Writer/Director) Second Coming
NajiI Abu Nowar (Writer/Director) Rupert Lloyd (Producer) Theeb
Sean McAllister (Director/Producer), Elhum Shakerifar (Producer) A Syrian Love Story
Stephen Fingleton (Writer/Director) The Survivalist
EDITING
The Big Short, Hank Corwin
Bridge Of Spies, Michael Kahn
Mad Max: Fury Road, Margaret Sixel
The Martian, Pietro Scalia
The Revenant, Stephen Mirrione
PRODUCTION DESIGN
Bridge Of Spies, Adam Stockhausen, Rena DeAngelo
Carol, Judy Becker, Heather Loeffler
Mad Max: Fury Road, Colin Gibson, Lisa Thompson
The Martian, Arthur Max, Celia Bobak
Star Wars: The Force Awakens, Rick Carter, Darren Gilford, Lee Sandales
COSTUME DESIGN
Brooklyn, Odile Dicks-Mireaux
Carol, Sandy Powell
Cinderella, Sandy Powell
The Danish Girl, Paco Delgado
Mad Max: Fury Road, Jenny Beavan
MAKE UP AND HAIR
Brooklyn, Morna Ferguson, Lorraine Glynn
Carol, Jerry DeCarlo, Patricia Regan
The Danish Girl, Jan Sewell
Mad Max: Fury Road, Lesley Vanderwalt, Damian Martin
The Revenant, Sian Grigg, Duncan Jarman, Robert Pandini
SOUND
Bridge Of Spies, Drew Kunin, Richard Hymns, Andy Nelson, Gary Rydstrom
Mad Max: Fury Road, Scott Hecker, Chris Jenkins, Mark Mangini, Ben Osmo, Gregg Rudloff, David White
The Martian, Paul Massey, Mac Ruth, Oliver Tarney, Mark Taylor
The Revenant, Lon Bender, Chris Duesterdiek, Martin Hernandez, Frank A Montano, Jon Taylor, Randy Thom
Star Wars: The Force Awakens, David Acord, Andy Nelson, Christopher Scarabosio, Matthew Wood, Stuart Wilson
SPECIAL VISUAL EFFECTS
Ant-Man, Jake Morrison, Greg Steele, Dan Sudick, Alex Wuttke
Ex Machina, Mark Ardington, Sara Bennett, Paul Norris, Andrew Whitehurst
Mad Max: Fury Road, Andrew Jackson, Dan Oliver, Tom Wood, Andy Williams
The Martian, Chris Lawrence, Tim Ledbury, Richard Stammers, Steven Warner
Star Wars: The Force Awakens, Chris Corbould, Roger Guyett, Paul Kavanagh, Neal Scanlan
BRITISH SHORT ANIMATION
Edmond, Nina Gantz, Emilie Jouffroy
Manoman, Simon Cartwright, Kamilla Kristiane Hodol
Prologue, Richard Williams, Imogen Sutton
BRITISH SHORT FILM
Elephant, Nick Helm, Alex Moody, Esther Smith
Mining Poems or Odes, Callum Rice, Jack Cocker
Operator, Caroline Bartleet, Rebecca Morgan
Over, Jörn Threlfall, Jeremy Bannister
Samuel-613 Billy Lumby, Cheyenne Conway