Baftas 2017: Ken Loach slams 'callous' and 'brutal' UK government following I, Daniel Blake win
Filmmaker won for best British film over the likes of American Honey and Fantastic Beasts And Where To Find Them.
Veteran filmmaker Ken Loach called out the UK government during his speech at last night's Baftas. After accepting the best British film award for his acclaimed drama I, Daniel Blake, the director labelled the system as "disgraceful," claiming that many underprivileged people are treated with "callous brutality."
He said: "Thank you to the academy for endorsing the truths of what the film says, which hundreds and thousands of people in this country know, the most vulnerable and poorest are treated by the Government with a callous brutality that is disgraceful, a brutality that extends to keeping out refugee children we promised to help and that's a disgrace too."
"Films can do many things, they can entertain, terrify, they can make us laugh and tell us something about the real world we live in," Loach said. "Sorry, it's early for a political speech."
"In that real world, it's getting darker and in the struggle that is coming between rich and poor and the wealthy and the privileged and the big corporations and politicians who speak for them. The rest of us on the other side – filmmakers know which side they are on and despite the glitz and glamour of occasions like this, we are with the people."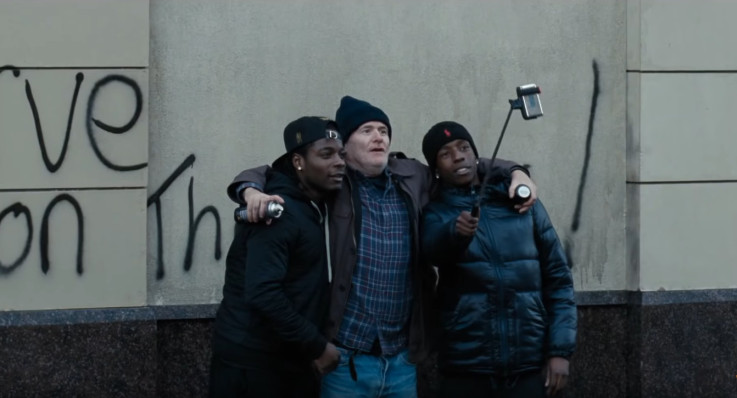 Ken Loach's Palme d'Or winning drama I, Daniel Blake stars Dave Johns
eOne Films / YouTube
While, the 80-year-old evidently felt the need to apologise for his politically-charged speech, Loach had spent a long time promoting the film and coming
Released back in October, I, Daniel Blake centres on a middle-aged man (played by truly versatile comedian Dave Johns) who, following a heart attack, is deemed unfit to work. Forced to rely on the UK's convoluted benefits system, he befriends a struggling single mother at the jobcentre who he helps set on a path to a better future. Blake, meanwhile, faces a cavalcade of obstacles in the way of him receiving welfare and, eventually, feeling beaten down, makes a dignified stand against the powers that be. The consequences of his self worth and pride, however, bring the film to a sad and tragic apex.
The film, also starring Hayley Squires and written by Loach's frequent collaborator Paul Laverty, won the Palme d'Or when it premiered at Cannes Film Festival in 2016.
For more entertainment news follow A-List on Twitter @Alistinsider