After eleven days of path-breaking films and show-stopping fashion, the 69<sup>th Cannes Film Festival came to a close on Sunday (22 May). And as the winners of the coveted Palme d'Or were announced, it was British cinematic achievement that led the way at the Cannes Film Festival's Palme D'Or Award and closing ceremony.
Veteran British director Ken Loach was conferred the Best Film award for his social drama I, Daniel Blake, which recounts the struggles faced by a middle-aged widower in northern England, whilst he desperately seeks employment and benefits after he suffers a heart attack.
Receiving his award from Mel Gibson, the 79-year-old director punched the air as he celebrated winning the second Palme d'Or of his career. Loach, who has had twelve of his films featured at the festival, first won the Palme d'Or for his 2006 movie The Wind That Shakes the Barley.
Speaking to reporters earlier in the day, he commented on the social crisis afflicting communities across Europe. "There is a conscious cruelty in the way that we are organising our lives now, where the most vulnerable people are told that their poverty is their own fault," he explained. "If you have no work it's your fault you haven't got a job. Never mind in Britain, there is mass unemployment throughout Europe."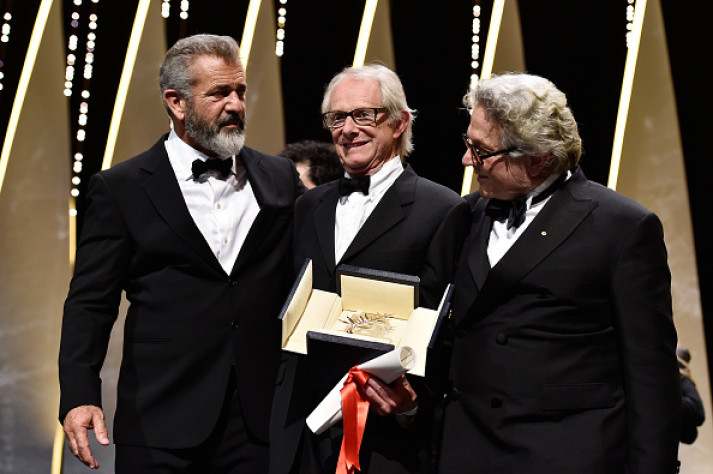 Another British winner at Cannes was Andrea Arnold's road movie American Honey, which won the Prix du Jury (Jury Prize).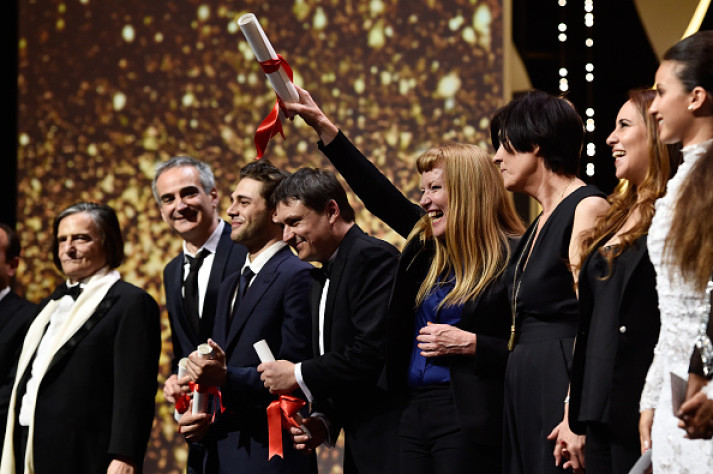 Ben Roberts, director of the BFI Film Fund, celebrated the triumphant night for British cinema, telling Sky News: "What a moment for British cinema, and for two important and humane films with so much to say. Bravo to Ken and to Andrea and their collaborators - including the unstoppable Robbie Ryan who shot both films. This is cinema from the heart, and we're grateful that we have an industry that can support such personal, powerful film-making."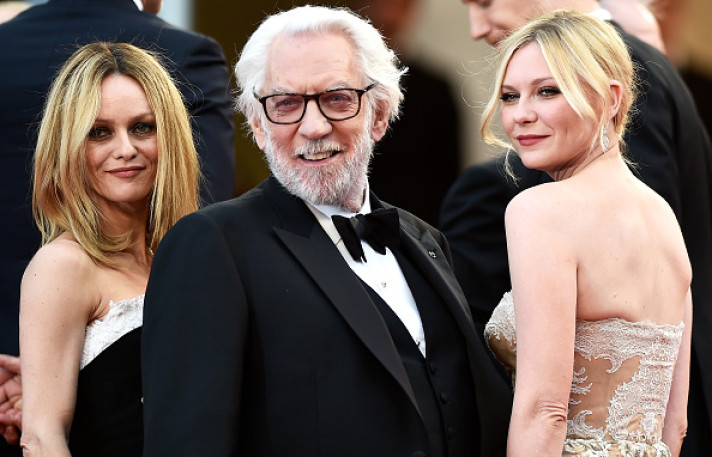 While the glittering awards ceremony was a fitting culmination to the prestigious film festival, the final red carpet display was also a starry affair as the esteemed jury members made their last outing for the festival.
Kirsten Dunst, French actress Vanessa Paradis and Donald Sutherland posed toegther for the last time as they celebrated their shared experience on the jury. "It was passion-fuelled by exquisite consideration for everyone in the room," said Sutherland, reflecting on his time as a jury member. "It was very beautiful. It was an association of people that you want to see again and again for the rest of your life. It was filled with love."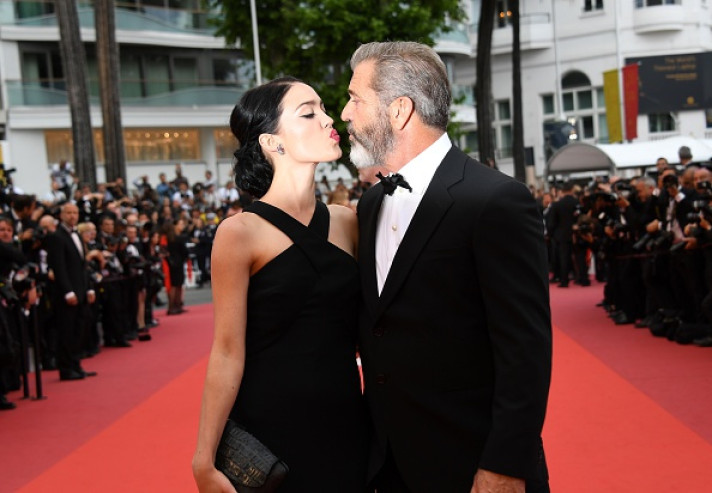 It was a sentiment shared by Jury president George Miller, who described the jury's selection as 'rigorous and happy'.
Dunst and Paradis looked demure as they stepped out for the closing ceremony. The Fargo actress scored a sartorial success in a delicate strapless gown with elaborate lace detail and dramatic train, while former wife of Johnny Depp Paradis wore a flattering black and white dress with a lace trim.
Mel Gibson, 60, put on a display of quite a different kind as he and girlfriend Rosalind Ross, 25, took to the red carpet. The pair didn't hold back on the PDA's as they posed for the snappers.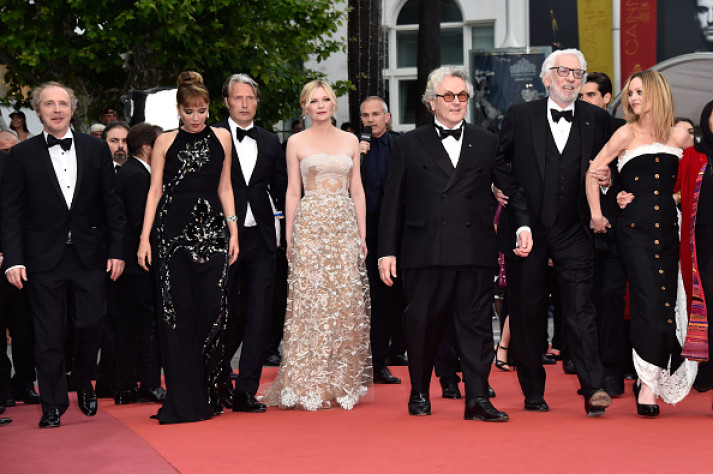 This year's red carpet arrivals caused a sensation in one way or another, from Amal Clooney's show-stopping arrival that left the A list stars standing, Indian beauty Aishwarya Rai Bachchan's purple pout that had everyone talking, Charlize Theron and Sean Penn's frosty face-off and Blake Lively's perfectly dressed baby bump.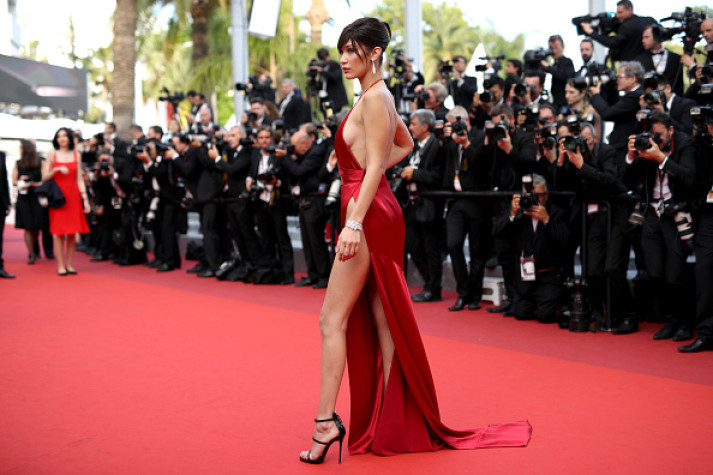 And while she didn't scoop a film award, supermodel Bella Hadid was definitely this year's red carpet winner, with her barely-there red dress that caught everyone's imagination.
Cannes Film Festival 2016 winners:
Palme d'Or
Ken Loach for I, Daniel Blake
Jury Prize
Andrea Arnold, American Honey
Best Actress
Jaclyn Jose, Ma Rosa
Best Director
Olivier Assayas, Personal Shopper" & Cristian Mungui, Graduation
Camera d'Or
Divines, Houda Benyamina
Best Screenplay
Asghar Farhadi, The Salesman
Best Actor
Shahab Hosseini, The Salesman Timecode, Juanjo Gimenez (Spain)
Queer Palm (Feature)
Les Vies de Thérèse, Sébastien Lifshitz
Queer Palm (Short)
Gabber Lover, Anna Cazenave-Cambet.
Grand Prix
Xavier Dolan, "It's Only The End of the World"
Best Short Film
Timecode, Juanjo Gimenez (Spain)