Three Billboards Outside Ebbing, Missouri was the big winner at the Bafta awards in London's Royal Albert Hall as it carried off five gongs, including for best supporting actor, best British film and best film.
The film industry's biggest awards show outside of the US saw a number of actors and directors make their mark two weeks before the Oscars. It was politically charged, with a number of female stars wearing black in solidarity with the #MeToo movement.
Frances McDormand scooped the best actress category for her role in the film where she takes matters into her own hands in seeking the culprit behind the murder of her daughter.
In her acceptance speech, she said she was pleased how campaigners had used the concept of the film to help their causes such as three billboards demanding justice following the Grenfell Tower fire being driven through London.
"I'm thrilled that activists all over the world have been inspired by the set decoration of Three Billboards in Martin's film and have taken to the streets and let it be a part of the positive public discourse that's happening," she said.
Sam Rockwell won best supporting actor for his role in the film, and he said: "There are no great actors, only great roles - and that's certainly the case with the Martin McDonagh script. He's annoyingly handsome to be as talented a writer and director as he is".
The film took the first award of the night in the Best British film category, thanks to the British heritage of the director and writer, Martin McDonagh. In his acceptance speech, the producer Graham Broadbent said of the film who takes on the establishment which has parallels with today's society.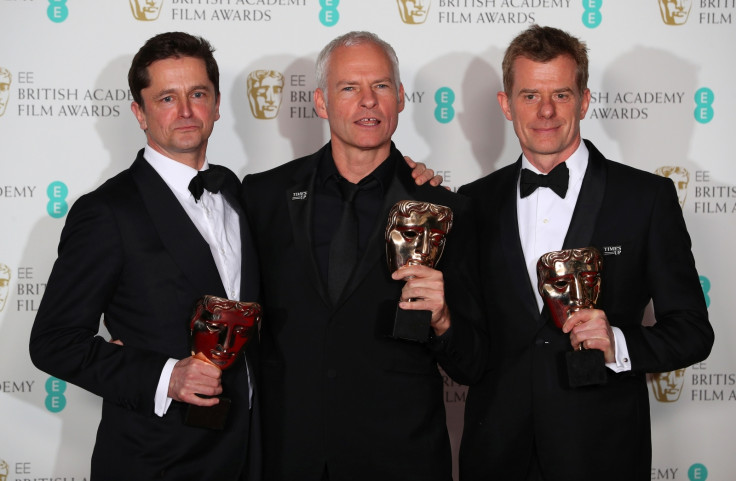 "In the last months the Time's Up movement has started in the USA and now here in the UK. A tectonic shift's taking place. It turns out meaningful change can happen very quickly if we put our minds to it."
At the end of the ceremony, it was named best film, giving it five awards, the most of any other film.
McDonagh said: "Our film is a hopeful one in lots of ways but it's also an angry one, and as we've seen this year, sometimes anger is the only way to get people to listen and to change, so we're thrilled that Bafta has recognised this."
The Shape of Water earned director Guillermo Del Toro the award for best director, while the best actor gong went to Gary Oldman for his portrayal of Winston Churchill in Darkest Hour.
The EE Rising star award went to Daniel Kaluuya who thanked Top Boy's Ashley Walters "for leading and inspiring me".
"Someone told me to be yourself and hope that people leave you alone and say 'you're not a star' - there's no parallel universe, I still roll around and go Carnival and festivals, I'm here."