An Iranian government adviser has been forced to backtrack after claiming that Baghdad is now capital of the "Iranian empire".
Ali Younisi, Iranian president Hassan Rouhani's adviser in ethnic and religious minorities affairs, claimed on Monday, that Iran now formed an empire, and "Baghdad has become part of this empire."
"Iraq is not only culturally part of its influence, but it is the [Iranian empire] identity and its capital today… We cannot leave this issue since geographical and cultural relations are ongoing and its demise is possible. We either agree or we will fight," he said, reports Al Arabiya.
The comments come as Iran extends its influence in the country, with Iran-backed Shi'ite militias commanded by Iranian officers playing a key role in the battle to retake areas of Iraq under the control of extremist Sunni organisation Islamic State.
Iraq's Foreign Ministry has condemned the comments, describing them as "irresponsible," and stressed that it would not allow any country to compromise its national sovereignty.
Younisi though responded that he was similarly alluding to the fact that Iran and Iraq, along with Afghanistan and Azerbaijan, partly shared a common cultural heritage and history as part of the Persian empire, and said that if they unified, they could halt the expansionist agenda of foreign powers.
Iranian backed Shi'ite militias are playing a key role in the operation to oust Isis militants from the city of Tikrit, north of Iraq, birthplace of dictator Saddam Hussein.
Pictures have emerged of Qasem Soleimani, leader of the elite Al Quds unit of the Iranian army and military kingpin, commanding troops on the front line.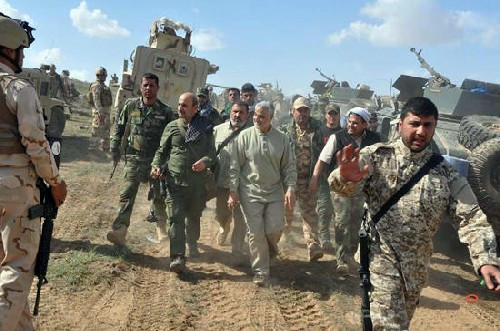 There are reports that the Iran backed Lebanese Hezbollah militia is taking part in the Tikrit operation, with the organisation's flag raised over retaken towns on its outskirts.
Experts believe that discrimination by the Shia government of Iraq's former prime minister Nouri al Maliki alienated Iraq's Sunni minority, fuelling the rise of extremist Sunni group Islamic State.
Shia militias are alleged to have committed reprisal attacks against Sunni civilians as they retake areas of the country once under the control of Islamic State.