Iraq: Isis unleashes seven suicide bomb attacks on government troops in Ramadi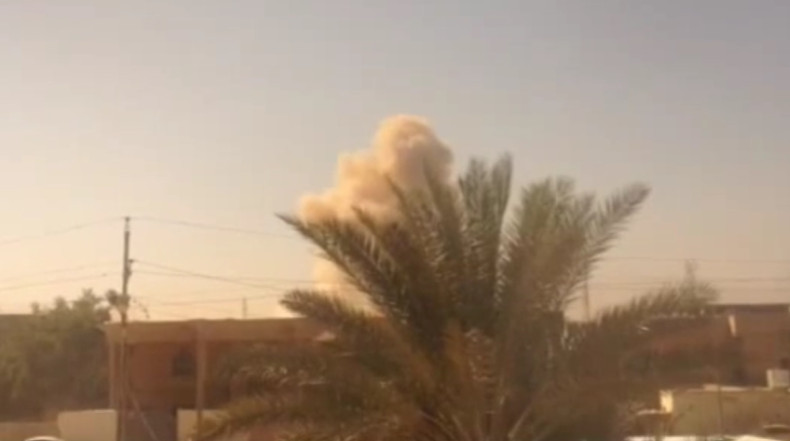 As Iraqi troops backed by militiamen were gaining ground in the strategic IS-held city of Tikrit, the jihadist group launched a coordinated wave of suicide bombings in western city of Ramadi on 11 March, 2015.
Police sources told AFP that seven car bombs exploded almost simultaneously in government-held areas of the Anbar province's capital. At least 10 people were said to have been killed in the coordinated blasts and more than 30 injured.
In video footage and images posted online purportedly showing the attacks, thick, dusty smoke could be seen billowing from several buildings after the detonations occurred.
"At around 7:00 am (0400 GMT), IS launched seven attacks with suicide bombers driving Humvees in the areas of Hawz, Malaab, Toi, Albu Faraj and Albu Eitha," police major Mustafa Samir told the news agency.
The IS counter-offensive came as Iraqi forces are carrying out a large operation to wrestle back control of part of the country from the Islamist militants. The offensive, which is made up of thousands of government troops supported by Iranian-backed Shia militias, has been focusing on Saddam Hussein's hometown, Tikrit.
Iraqi media reported on 11 March that the Iraqi Security Forces (ISF) have seized several key locations in the heart of the city, including a military hospital and a number of other government buildings. Retaking Tikrit is of high strategic and symbolic importance to Baghdad.
The city was the stage for the massacre of hundreds of Iraqi soldiers who were brutally executed on camera by IS after being captured from the nearby Camp Speicher in 2014, and whose deaths government troops' are yearning to avenge.
Seizing Tikrit is also a necessary prerequisite to launch any military operation on Iraq's second largest city, Mosul, as Tikrit in located some 130km (80 miles) north of Baghdad, on the main northbound artery accessing the Mosul region.
In February 2015, US officials disclosed that a coordinated military mission to retake Mosul involving some 25,000 Iraqi troops and Kurdish fighters was being set up and expected to start in April or May.
Iraq forces supported by coalition air strikes have also been on the offensive in Ramadi's Anbar province, which was the scene of heavy fighting in October 2014.
The US military said government troops pushed IS militants out of the town of al-Baghdadi, about 100km northwest of Ramadi, after months of battles. The Washington-based Institute for the Study of War (ISW) reported on 9 March that Baghdad's forces had also claimed full control of the al-Qinatir crossing northeast of Fallujah, "killing dozens" of IS fighters.