Protests have erupted across Bahrain following news that a 16-year-old boy was shot dead by police during the second anniversary of the country's uprising.
Clashes erupted on the island of Sitra and two mainland villages, Diraz and Sanabis, following the shooting of Hussain Ali Ahmed Abrahim during a protest in Al-Daih, a village west of Manama.
Police fired tear gas, rubber bullets and birdshot against pro-democracy protesters, and pictures on social media showed officers armed with shotguns hunting people in the towns.
Amnesty international called for the release of what it calls Bahrain's prisoners of conscience. More than two dozen activists remain behind bars in the Gulf kingdom.
"It's time that people detained for exercising their right to freedom of expression be released," Amnesty said in a statement.
Amnesty International's Middle East and North Africa Deputy Director Hassiba Hadj Sahraoui said: "The government of Bahrain cannot carry on imprisoning people simply because it can't take criticism."
However the government's information department issued a statement claiming that after "inflammatory invitations to marches, sit-ins and civil disobedience," groups of protesters have "since yesterday evening committed acts of sabotage, blocked streets, closed major roads and committed acts of violence, and continued to do so this morning".
It also said the cause of death of teenager Hussain "is yet unknown", adding in a statement that "the case has been referred to the public prosecution and a thorough investigation is being conducted."
The statement also urged people to remain calm and "not to spread unfounded rumours".
However, photographs published on Twitter suggest that Hussain was standing with no weapon in his hands when government forces targeted him with birdshot at close range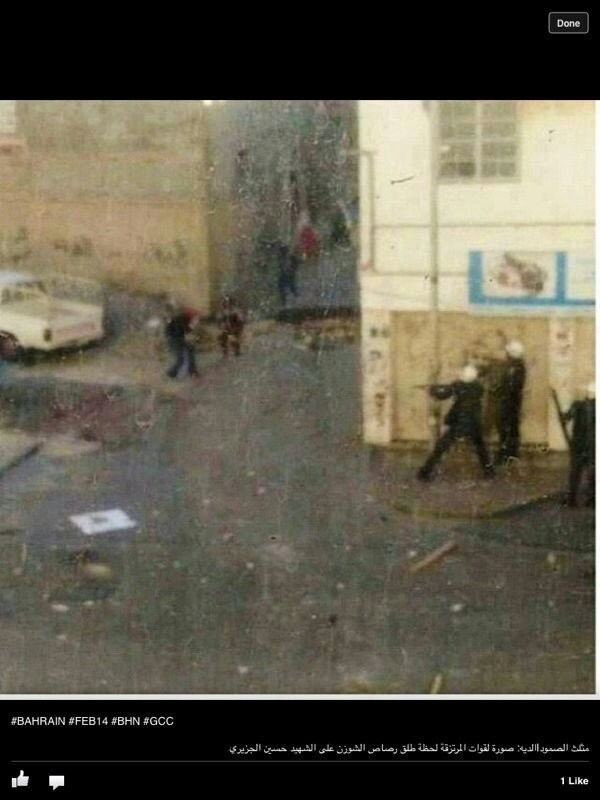 According to the Bahrain Centre for Human Rights (BCHR), 87 civilians, including 13 children, have been killed due to excessive use of force against protesters in the last two years.
Meanwhile three Bahraini journalists, including renowned dissident Mazen Mahdi, have been arrested and subsequently released by the police. They were covering the demonstrations marking the second anniversary of the Bahraini uprising.
Denmark's foreign minister Villy Søvndal has called on the Bahraini government to "immediately end its reckless treatment of young demonstrators", but added: "Unfortunately conditions in Bahrain continue to move in the wrong direction. We therefore continue to sustain the pressure on the Bahraini government.
"Denmark will continue to work for the release of Abdulhadi Al-Khawaja and we are in continuous dialogue on this matter with other countries and international organisations, which support the Danish position."