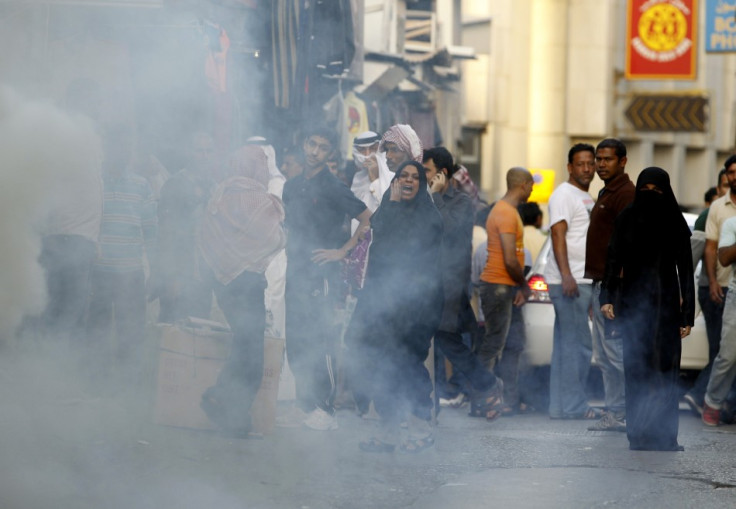 Bahraini police fired teargas and stun grenades into crowds of pro-democracy protesters in the capital of Manama.
Hundreds of youths took to the streets of the old market district chanting "No dialogue with killers". Police blocked major roads after the interior ministry refused permission for the march.
"It is illegal to take part in the rally and action will be taken against violators," it tweeted.
In October, the Bahraini government banned all protests and public gatherings, following clashes between police and pro-democracy protesters.
The latest clashes came after the opposition agreed to enter into talks with the government to solve a political impasse that started with the 14 February protests in 2012.
But Ali Alaswad, Bahraini opposition leader and former MP, told IBTimes UK that the main opposition party, Al Wefaq, ws still awaiting a formal approach for talks.
Deep concern
"The people have a right to protest peacefully in Manama and attempts to stop them through repressive measures are unjustified," he said.
"The government has spoken about dialogue but their actions today are of deep concern and do little to bring confidence that they are willing to find a solution."
Another spokesman for Al Wefaq told the BBC that agreeing to dialogue "doesn't mean that we stop our protests.
"We need to be assured that the process is credible, we need detail about how agreement will be reached, where it will go and how the people will ratify it," Khalil al-Marzook said.
The tiny island kingdom of Bahrain lies in the Persian Gulf off the coast of Saudi Arabia and has a history of relatively small uprisings.
With a Sunni monarchy, relying on a largely Sunni power base, the majority Shia population has for years been disfranchised and left on the margins of political life.
The government has mainly depicted the protests as Shia-led and based on sectarian demands.