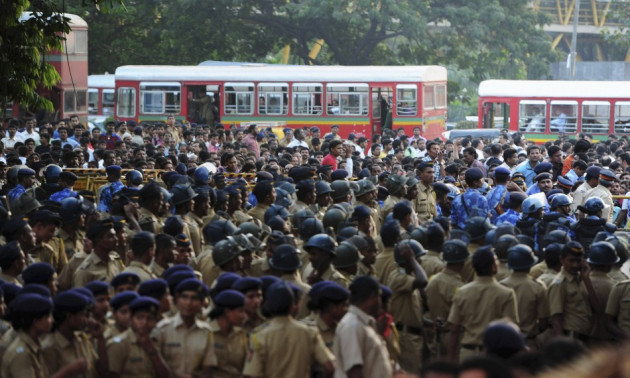 Controversial leader of the right-wing political party Shiv Sena, Bal Thackeray, 86, has passed away in the Indian city of Mumbai. Thackeray had been ill for the past several weeks fighting breathlessness.
His death has brought the Indian commercial capital to a standstill as businesses and transportation have been completely halted. Most of the theatres and restaurants in the city have shut down.
"He suffered a cardiac arrest. We could not revive him despite our best efforts. He breathed his last at around 3:33 pm," said his physician Jalil Parkar.
Security has been stepped up in the city over Thackeray's funeral possession. Nearly 20,000 police personnel have been deployed.
Tens of thousands of his followers who have come from across the state of Maharashtra have lined up the streets for his funeral which will take place later in the evening. Around 200,000 people are expected to turn up to pay their last respects to Thackeray.
Thackeray, a former political cartoonist, launched the Shiv Sena party in 1996 championing the cause of ethnic Maharashtrians and opposing immigrants who were drawn to the city from other parts of India to make a living. He was a demagogue and a self-confessed admirer of Hitler. He preached hatred against Muslims, especially Pakistanis and even staunchly opposed India-Pakistan cricket matches. "Having peace talks with Pakistan which is behind the blasts in India is a farce. Playing cricket with them is treason," he wrote in Shiv Sena's mouthpiece in July.
At one point, the Shiv Sena supremo urged Hindus to form suicide squads to fight Islamic terrorism. His party cadres have been blamed for the riots, targeting Muslims in Mumbai in 1992 and 1993 by a government inquiry. Nearly 600 Muslims were killed during the riots but Thackeray did not face any charge.