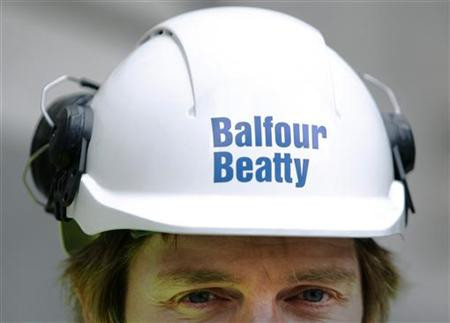 Shares in Balfour Beatty rose in morning trading on the FTSE 250 after the housebuilder reported a rise in pre-tax profit for the half year ended 26 June.
Group revenue in the first half was reported as being up from £4.4 billion in the previous year to £4.6 billion, while pre-tax profit before exceptional items increased from £113 million to £151 million. After exceptional items pre-tax profit increased from £86 million to £91 million.
The group added that it would be raising its dividend from 4.79 pence per share to 5.05 pence per share.
Since the end of December the group said the value of its order book had risen from £14.1 billion to £14.6 billion.
During the half year period Balfour Beatty sold two PPP investments, earning the group an extra £24 million.
Ian Tyler, Chief Executive of Balfour Beatty, said, "We are reporting another strong performance in the first half of 2010.
"We have created a Group which is uniquely well-placed in major markets to benefit from the long-term, global growth in investment in infrastructure. While the timing of short-term movements in individual markets is difficult to predict, we now have significant capabilities across the infrastructure lifecycle and operate in diverse markets and geographies, which gives us strength and resilience.
"We have a high-quality order book of £14.6 billion at June 2010 and a number of opportunities in the second half of the year. This, along with the actions taken and proposed to drive efficiency, means we are well-positioned to manage any challenges in individual markets. Our continuing progressive dividend policy reflects our confidence in the Group's ability to deliver growth over the medium term.
"Overall, we remain confident about the outlook for the Group."
By 11:25 shares in Balfour Beatty were up 0.49 per cent on the FTSE 250 to 264.20 pence per share.