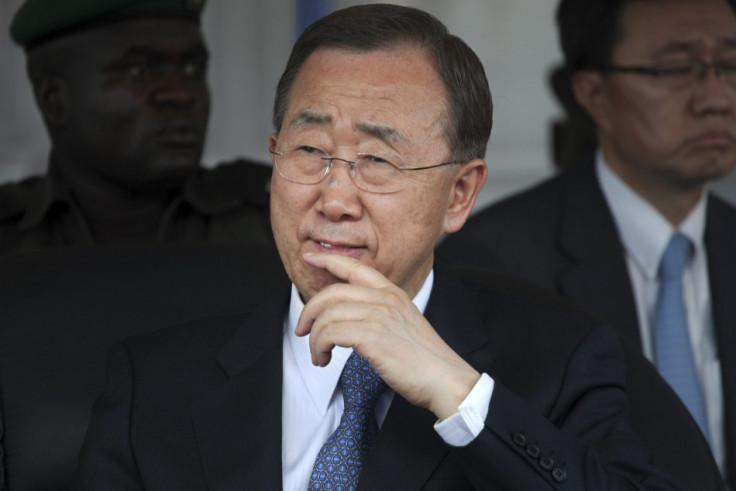 South Korea's Ban Ki-moon said he will run for a second five-year term as Secretary-General of the United Nations.
"It has been an enormous privilege to lead this great organization," Ban, 66, said yesterday at a news conference at the UN headquarters in New York. "If supported by the member states, I would be deeply honoured to serve once more."
Ban expressed his intention in a letter to the governments of the 192 UN member nations and will meet with their envoys within the next two days. The Security Council will first vote to recommend his re-election and the General Assembly then votes on whether to give him a second term that would begin on Jan. 1, 2012.
Mr Ban is widely expected to be re-elected as Britain, China, France, Russia and the U.S., the five permanent members of the Security Council, back his second term and in addition no opposition candidate has emerged.
"We welcome the announcement," Mark Kornblau, spokesman for the U.S. mission to the UN said in a statement. "We have worked constructively with the secretary-general over the past several years on a wide array of complex challenges facing the United Nations and the international community."
China and Japan, the second and third-biggest economies in the world, also reacted well to the announcement and quickly officialised their support.
Japanese Prime Minister Naoto Kan sent a message to New York "supporting UN Secretary Ban's re-appointment," Chief Cabinet Secretary Yukio Edano told reporters today in Tokyo. "We very much appreciate the job he has done in the past five years dealing with problems around the world."
Also a statement on the Chinese Foreign Ministry strongly praises the UN secretary:
"A UN Secretary-General, as the highest-ranking executive official of the UN, plays an important and unique role on all fronts of the UN's work. Mr. Ban Ki-moon, a Secretary-General from Asia, has made great contribution to promoting a greater role of the UN in international affairs during his four-year term of office. China applauds his efforts, supports his re-election and hopes that he will win extensive support from around the world."
France's Foreign Minister Alain Juppe also called Ban's announcement "very good news." The "UN and the entire international community can rely upon him, his very solid experience and his authority," Juppe said in a statement.
"He is a person who has demonstrated strong leadership and is a person of action and a person with vision of a better world and a better UN," China's Ambassador Li Baodong told reporters.
Talking about his work, Ban told reporters that in his first term he directed responses to natural disasters in Myanmar, Haiti and Pakistan "quickly and effectively" while "sowing the seeds of peace" in Sudan, Somalia, Democratic Republic of Congo and Ivory Coast.
While he is expected to put forward his achievements as he is after all running for a second term, the situation in DRC is still critical and the country is far from being peaceful and stable, while Somalia still stands as a deeply fractured territory. The same case can be made with Ivory Cost. Alassane Ouattara might have finally ousted his rival Laurent Gbagbo but he has nonetheless inherited a country that has been traumatised by another violent episode as supporters from both camps engaged in killings, reviving memories of the civil war that engulfed the country from 2002 to 2007. At the time the war ended with the UN peacekeepers forcibly separating the population which remained divided between Christians and Muslims, but the conflict that emerged following the last presidential elections proved that the militias and sectarians tensions are still very much present.
Asked about his unmet first-term goals of ending the conflict in the Darfur region of Sudan and completing an international agreement to combat climate change, Ban said he was "sorry to tell you that all these major challenges are in process that we will try to accelerate."
His supporters credit him for drawing attention to climate change and deploying a joint UN and African Union peacekeeping mission that has "saved thousands of lives" in Darfur and while Human rights advocates have criticized Ban for failing to admonish world powers such as China for alleged abuses, Human Rights Watch has however recently praised the UN Secretary General for his handling of the Arab Spring.
In a statement, Phillippe Bolopion speaking for the organisation explained that while Ban's first term "has too often been disappointing on human rights issues, his recent handling of the crises in the Arab world or Ivory Coast has been more positive. We can only hope that once free from re-election concerns, with his legacy in mind, he will become a more forceful and consistent voice on human rights, including when it means standing up to permanent members of the council like China."
Since his election, Ban Ki-Moon has indeed faced wide criticism with regards to what many see as a soft stance towards China while also being accused of only being bolder on issues backed by at least one of the five permanent Security Council members.
While Ban said on Monday that "advancing human rights and international justice" were among his top priorities last year rights groups criticized him for failing to mention the jailing of Nobel Peace Prize laureate Liu Xiaobo during a meeting with Chinese President Hu Jintao in China and pointed out that the UN general secretary has never congratulated Liu or publicly called for his release.
But perhaps, one of the harshest criticisms of Ban came in the form of a leaked 2009 memo from Norway's former Deputy U.N. Ambassador Mona Juul, who said the UN Secretary-General was someone who suffered from a "lack of charisma" and succumbed to "constant temper tantrums."
Juul described Ban as a "powerless observer" during the 2009 fighting in Sri Lanka when thousands of innocent civilians were killed as government forces ended a 25-year civil war against Tamil Tiger rebels before adding that the U.N. was largely absent from the world's great crises and that Ban had lost the faith and respect of both member states and his own staff.