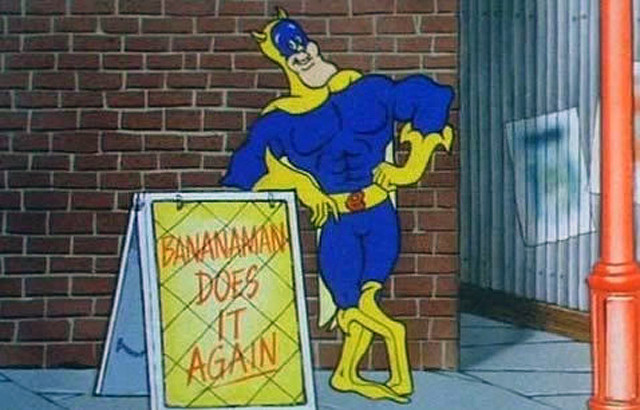 As if Iron Man, Captain America, The Hulk, Thor and Ant-Man weren't enough for one year's worth of superheroes, our own Bananaman is planning to give them a run for their money as well.
Following hot on the bewildering footsteps of the announced sequel to Mike Basset: England Manager, another unexpected British pop culture entity is set to hit the big screen.
The only evidence of such a film can be seen over at BananamanMovie.com, which features a cosmic background, the hashtag #PeelThePower and mentions of Elstree Studio Productions and DC Thomson – who own the character rights.
For those who don't know - get out from under that rock for a start – Bananaman was a hit comic strip in the 80s that appeared in Nutty, The Dandy and The Beano. In 1983 he got his own cartoon series which ran on the BBC and starred Graeme Garden, Bill Oddie and Tim Brooke-Taylor – otherwise known as comic trio The Goodies.
Bananaman is the fruit-infused alter-ego of schoolboy Eric Wimp (later renamed Eric Twinge) who became the super-powered hero when he ate a banana.
The show was a light-hearted send-up of popular superheroes, and this age of superhero movies is ripe for parody. Pitch it just right and Bananaman could find an audience.
It is not yet clear if the film will be animated or live action, but the former is most likely.
There's every chance that the website could be a hoax, but it's certainly a good one if that is the case.