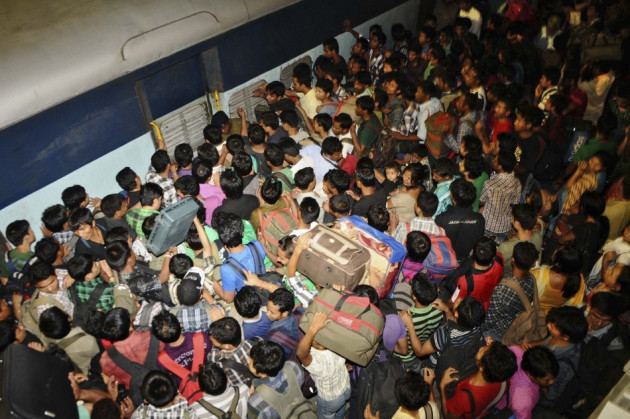 Thousands of people from India's north-eastern state of Assam are fleeing the southern city of Bangalore, in fear of sectarian violence..
The exodus was sparked by a series of malicious text messages, which promised targeted attacks on people from Assam and other north-eastern regions after the Muslim festival of Eid.
The messages follow a series of clashes in Assam between Muslims and members of the indigenous Bodo tribe, which have left more than 80 dead. Assamese migrants living in Bangalore fear they will be persecuted as scapegoats for anti-Muslim violence in their home state.
The collective anxiety has been excerbated by a knife attack on a Tibetan student in Mysore, near Bangalore. While the investigators have yet to identify the reason for the attack, it has sparked widespread fear among students based in the south.
Up to 20,000 Assamese are believed to have left Bangalore in the last couple of days, leading to huge crowds of students and professionals in railway stations across the city.
"We had to scramble to arrange at short notice two special trains of 20-22 coaches each around midnight to Guwahati [the capital of Assam]," Suvankar Biswas, a spokesman for South Western Railway, told AFP.
Similar panic has been reported in neighbouring states such as Andhra Pradesh, Maharashtra and Kerala. Hundreds of people were seen leaving for north-eastern states from Hyderabad and Mumbai.
Response
India's home ministry has directed the Intelligence Bureau to investigate the origin of the text messages and monitor social networking sites, on which rumours of violent reprisals are spreading.
"At all costs we will ensure peace and harmony in the country. We would like all state governments to work with local communities to this effect," said India's Prime Minister Manmohan Singh.
"We must work together to ensure that all people from other states do not feel threatened by rumour-mongering and SMS messages. We have to maintain peace at any cost."
The authorities have set up helpline numbers and placed the police on high alert in Bangalore.
Vincent S D'Souza, Bangalore deputy commissioner of police, added: "We are investigating the source of these rumours and who is behind them.
"Mischief-mongers and vested interests are misusing social media, mobile and the Internet to spread these rumours and create panic in the people of the northeastern region."
Jagadish Shettar, chief minister of Karnataka [the state of which Bangalore is capital], has conducted separate meetings with leaders of the Muslim and Assamese communities, in an effort to restore calm among the people.