Recent bomb blasts in Thailand present a new downside risk to the country's economic activity, as the development obviously impacts its key tourism sector.
Thailand's current account surplus would get narrowed, and its monetary policy rate would be pushed lower, according to economists from ANZ Bank.
"Thailand's current account balance remains vulnerable if its tourism-related export service receipts suffer on the back of the recent incident and subsequent political uncertainty," they said in a note.
"Hitherto, tourism-related services receipts have provided a comfortable cushion amid lacklustre exports, without which the current account surplus might have already seen a significant erosion."
According to World Travel & Tourism Council (WTTC) reports, travel and tourism generated over $72.2bn (£46.2bn, €65.1bn) or 19.3% of the country's GDP in 2014. The sector supported over five million jobs, representing 14% of the total employment.
Thailand's annual visitor exports, which is money spent by foreign travellers in the country, have more than doubled in the last decade, increasing from $19.4bn in 2005 to $40.3bn in 2014.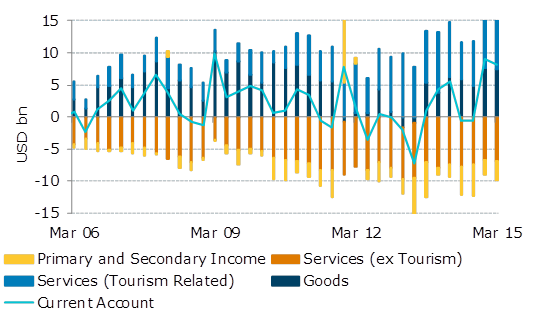 ANZ economists also expect further monetary easing in the country, "with the flexibility provided by the ongoing bout of disinflation."
However, a cut in interest rates may be insufficient to deal with the difficult situation, and the Bank of Thailand may move on to allow further weakness in the baht, following the path of its Chinese counterpart, according to them.
In addition, they expect martial law to be reintroduced in the country, following the bombing. The imposition of martial law would hurt the economy's growth outlook.
"It is highly regrettable that Thailand, one of the most popular tourist destinations in the world, has been the target of this violence. Fortunately, Thailand has shown its resilience in the past from natural disasters and other disruptions, and we hope that the situation will stabilise and return to normal very quickly," said David Scowsill, president and CEO of WTTC.
The Thai defence minister has earlier said the bomb blast at the Erawan Shrine in central Bangkok was aimed at the country's tourism industry. The death toll from the attack passed 19, while 123 have suffered injuries.
The Erawan Shrine, on a busy corner near a five-star hotel, is a Hindu shrine extremely popular with Chinese Buddhists.