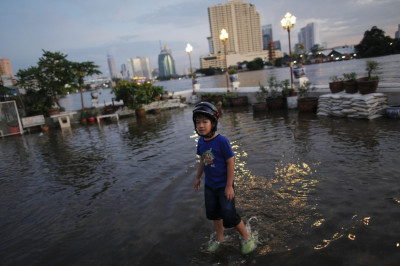 Tens of thousands of people were forced to flee their homes in Bangkok ahead of an anticipated high tide of flooding this weekend.
Experts now fear Bangkok's Chao Phraya River could burst its banks over the weekend during the high tide expected to begin Friday. Prime Minister Yingluck Shinawatra had already warned the inhabitants of the capital this week, telling them to prepare for the eventuality of an evacuation.
On Friday the Chao Phraya River swelled to a record high, inundating nearby tourist spots including the Grand Palace, prompting Yingluck to call for new strategies to help the country recover from the worst floods since 1942.
"The crisis we're facing today is the most critical natural disaster that ever happened in Thai history," she told reporters today, before adding she would welcome ideas from the opposition. "I'd like to ask for cooperation from everyone that we don't have political parties, nor political games. We must not be divided."
One of the options considered by the government would involve cutting channels through five major Bangkok roads to help drain floodwaters entering northern parts of the capital as a high tide puts riverside communities at greater risks.
Dikes holding back a three meter-deep wall of water that has inundated about 10,000 factories, are still holding up, but are being closely monitored.
The worst flood to affect the country in half a century have now forced Thailand's central bank to cut its forecast for economic growth this year as while it had earlier in the year forecasted a 4.1 per cent growth, latest figures are now closer to a 2.6 growth for 2011.
The floods have plunged the capital into chaos as people are now suffering food and water shortages and inhabitants are angry by what they see as a lack of government pre-emptive actions and preparedness.
Just Thursday, Sukhumbhand, Bangkok's Governor claimed to a group of executives that, "there is no sign that floods will spread all over Bangkok."
However the image of the Grand Palace, surrounded by water earlier today, presented a sharp contrast.
The floods however are still limited to the northern and eastern areas of the capital and the low-lying places near canals and rivers and Bangkok's Suvarnabhumi International Airport is still operating normally.
Don Mueang Airport mainly used for domestic flights, was forced to close after floodwaters reached the runways, but the building was later on used as a shelter for about 4,000 evacuees before they could be taken to other locations.
The government has warned that more people might still need to be evacuated and Yingluck has said it could take a month for waters to recede.