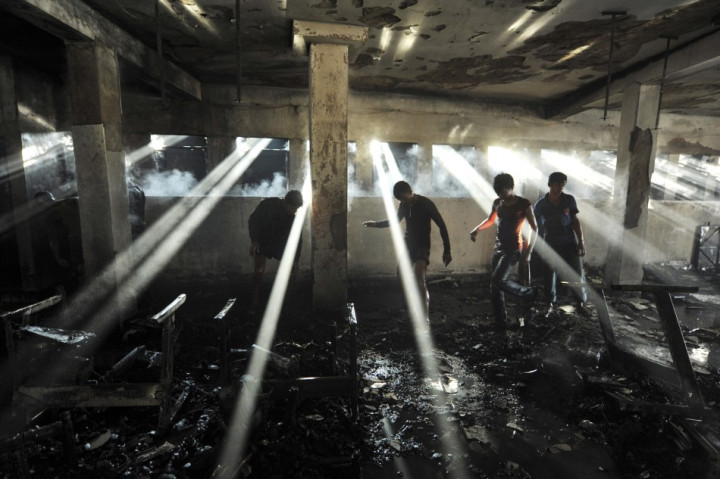 Bangladesh police have detained the chairman and managing director of Smart Export Garments following a deadly fire that killed seven workers at the company's Dhaka factory.
The arrests were made after the father of one of the victims filed a complaint accusing three top company officials of negligence, according to police spokesman Masudur Rahman.
Mohammad Sharif, chairman of the company, and managing director Zakir Ahmed were arrested in the aftermath of the complaint.
"Survivors said the factory's only exit was locked when the fire started during the lunch break and there was no emergency exit or any fire equipment in the two-storey building," police deputy commissioner Mollah Nazrul Islam said.
The plant was reportedly operating without clearance from the fire department. Police said that two of the seven killed in the Smart factory were aged 15 and 16.
"Employing under-age boys and girls is a violation of law," said Azizul Haque, another police officer.
Among the wreckage, garments from Inditex SA's Bershka and Lefties brand were found, the Institute for Global Labour and Human Rights said on its website.
Inditex, the world's largest clothing retailer, announced it stopped doing business with two subcontractors after the fire. The retailer's brands include Zara and Massimo Dutti.
The Smart fire came two months after Bangladesh's worst-ever factory fire at the Tazreen Fashions warehouse, which killed 111 people. On that occasion,lax safety measures were blamed for the tragedy.
Garment employees in Bangladesh, the world's biggest exporter of clothing after China, may work up to 60 hours a week and be forced to work overtime. Many earn just $36 a month.
The country's commerce minister Ghulam Muhammed Quader said that the government lacks the staff and the resources to monitor the country's textile industry. He announced that inspections are being carried out across Bangladesh's 5,000 apparel and textile factories.