The Bangladesh government have blocked the nation's opposition leader from leaving her party offices and have banned all protests in Dhaka.
Security forces claimed that the move was to protect Khaleda Zia, who heads the Bangladesh Nationalist Party (BNP), as her supporters planned to stage protests.
"We've not detained her, only her security has been enhanced. She is not leaving her office," Police Inspector Firoz Kabir told AFP.
The Demonstrations were to be held on the anniversary of last year's parliamentary elections, which the BNP and other opposition parties boycotted over fears that the vote would be rigged by the ruling Awami League.
The BNP have since dubbed January 5 "Democracy Killing Day" after Awami League leader and current Prime Minister Sheikh Hasina saw her unopposed party sweep to victory.
The Bangladesh Election Commission said that less than 40% of the electorate turned out to vote as clashes between police and protesters broke out across the country.
A senior BNP source told IBTimes UK that the police's claim of protecting Zia is a "joke" and the decision to stop the party officials leaving their offices was an act of "intimidation".
"The government lacks international legitimacy and it is trying to move towards Soviet-style, one-party rule," said a special adviser to Tarique Rahman, the senior vice chairman of the BNP and son of Zia.
Humayun Kobir added: "People are now getting fed up – every single institution of the country has been politicised.
"It's a joke when the government says it is providing security. It has police officers outside of the official offices of the BNP leader.
"It's nothing new. They fear people's democratic movement against their illegitimate mandate."
'Symbol of democracy'
Kobir claimed that the government dare not arrest Zia because the former Bangladesh Prime Minister could become a "symbol of democracy".
"They are nervous about her. They are trying to curb her position and isolate her from the people, but it's not possible," he said.
Rizvi Ahmed, a senior BNP figure, fell ill inside of the party's offices and was taken by the police to hospital.
Kobir alleged that the security forces had arrested the joint general secretary.
The special adviser warned that there would be a "backlash" against the government and said Rahman, who is based in London, had used Bangladesh TV to call for an uprising against the authorities.
Political tensions between the Awami League and the BNP led to 500 deaths in politically related violence in 2013.
The parties have jockeyed for power since Bangladesh's independence in 1971 and the nation has suffered decades of corruption and disorder.
The Foreign Office warned British visitors to the country to limit their movement in central Dhaka and in areas around political offices.
"If you're currently in Bangladesh or intend to travel to Bangladesh, even if you're a regular visitor with family or business links, you should monitor news media and regularly consult this travel advice," the ministry advised.
Human rights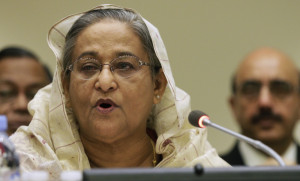 Human rights groups have criticised the Bangladesh government for alleged violations, particularly on the right to freedom of expression.
Amnesty International said that at least 20 people have been "forcibly disappeared" since 2012 in the country.
The organisation reported that eyewitnesses had seen several people being abducted by the police or the Rapid Action Battalion (RAB), the state's controversial anti-terrorism unit.
Of the disappeared men, nine have been found dead, six have returned home after captivity lasting up to two months and five are still unaccounted for (as of October 2014).
However, the police and the RAB have denied being involved.
Likewise, Human Rights Watch said human rights had "tumbled backwards" in 2013 under Hasina's administration.
The group alleged that the government had been involved in a "harsh crackdown" on civilians and the media.
Toby Cadman, an international criminal law expert and barrister at 9 Bedford Row, told IBTimes UK that the Awami League is consolidating it power as an "autocratic authority" in Bangladesh.
"There is no free media, no freedom of expression, no freedom of assembly. Any opposition to its autocratic rule is crushed. Voices of opposition are charged with sedition or contempt," he said.
Cadman called on the international community to intervene in Bangladesh and warned that democracy had "collapsed" in the South Asian country.
"The international community has remained negligently silent over the past three to four years and watched this climate of fear escalate," he added.
"It is not an overstatement to say that democracy has collapsed and Bangladesh is slowly slipping towards renewed conflict.
"The international community needs to engage with all parties in Bangladesh. It needs to look at a long term strategy.
"It needs to put greater emphasis on accountability and recognise that the Awami League under Hasina is establishing her own fiefdom and she has absolutely no interest in the people of Bangladesh or democratic values."