Bangladesh has one of the highest rates of child marriage in the world. Around 29 percent of girls are married before the age of 15, and 65% of girls are already married by the time they turn 18. Families are often in a hurry to marry their daughters off, because girls are thought of as an economic burden. Education is considered unnecessary for girls, because boys get the jobs and bring the money in.
Child marriage is both physically and psychologically damaging. Girls who are forcibly married at a young age are more likely to experience domestic abuse than their unmarried peers and many girls report their first sexual experience is forced. A girl of 15 is five times more likely to die in childbirth than a woman in her twenties.
Allison Joyce, an American photojournalist based in Bangladesh, travelled to a rural area in Manikganj District, west of the capital, and photographed a wedding between a 15-year-old girl and a 32-year-old man.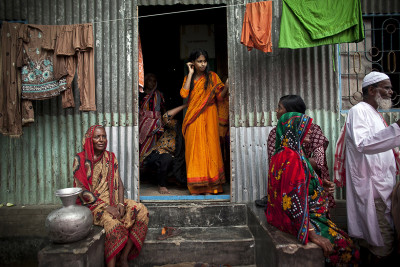 Allison Joyce also met two other child brides.
Mousammat Akhi Akhter was only 13 when her parents married her off to a 27-year-old man. She had just finished 6th grade and wanted to wait until she was older to get married, but she says her parents felt social pressure to marry her young.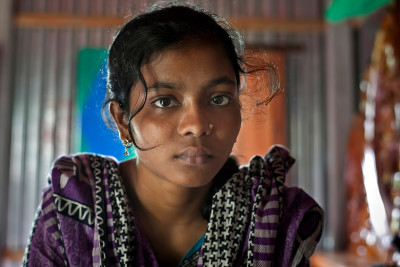 Shima Akhter married Mohammad Solaiman last year when she was just 13 and he was 18.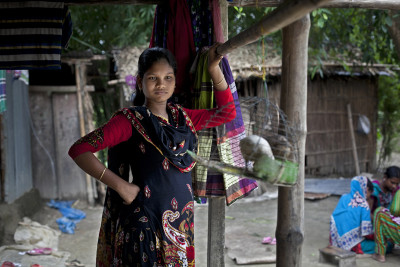 Child marriage is illegal in Bangladesh, but the law is rarely enforced. Prime Minister Sheikh Hasina pledged to reduce, and ultimately eliminate, child marriage. However, a draft of the Child Marriage Restraint Act has a clause which says that although the legal age of marriage for girls is 18, marriage will be legal at 16 under special circumstances, such as if the girl is pregnant or "if it is their parents' wish"