At the age of 15, Faridah, from Pakistan, was forced to drop out of school and marry a much older man. When she asked if she could go back to school, he became abusive.
"He beat me, argued with me and refused to let me go. He said: 'What's the point in educating girls? There's no point because it's the boys who get the jobs'."
Faridah's story is not uncommon. Thousands of girls under the age of 18 are forced to marry every day, a report from child rights organisation Plan International Australia has revealed. According to the report, 14 million girls under the age of 18 are forced to marry every year, representing as much as 39,000 each day.
The report calls for the Australian government to play a greater role in ending child marriage through its foreign aid programme and by advocating a United Nations General Assembly resolution.
Child marriage is a global problem, but it is particularly widespread in African and Indo-Pacific countries. In Bangladesh, the percentage of women married before they turn 18 is 65%, followed by 47% in India and 40% in Pakistan and Afghanistan. Worldwide, girls who live in rural areas are twice as likely to be married by 18 as those living in urban areas.
Although the problem is more common in developing countries, it also takes place in Australia. While the data for the country's cases is uncoordinated, the Children's and Youth Law Centre had identified 250 child marriage cases while the Immigrant Women's Health Service in New South Wales had reported 60 child brides.
"Child marriage in Australia is inextricably linked to child marriage overseas, so the most effective way to end it here is to tackle the problem at its root and that's by ending it in the developing world," Plan International Australia CEO Ian Wishart said.
"There are parents who still have very strong stereotypes for their girls and there are parents who still think their children are owned, more or less, like property," Wishart explained. "And those two beliefs will drive those parents to take those decisions."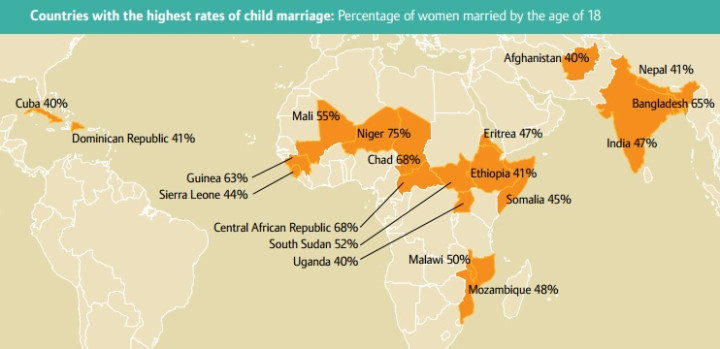 Rigid gender roles and cultural beliefs are key determinants of child marriage. In the Highlands region of PNG, girls are often kept at home and denied the opportunity to attend school, as it is presumed they will marry at a young age to produce children and care for
The report also highlights that in a context of entrenched gender inequality, poverty increases the social and economic pressures on girls and their families and increases prevalence of child marriage.
According to United Nations Population Fund research conducted across 78 developing countries in 2012, 54% of girls in the poorest 20% of households are married, compared to 16% of girls in the richest 20% of households.
Natural disasters are also a factor in child marriage rates, as more than half of the 25 countries where the problem is prevalent are considered fragile states. Plan International found that drought, flooding and food crises in Bangladesh exacerbated poverty and child marriage.
For thousands of girls, child marriage is a significant barrier to education for many of the 75 million girls worldwide who do not go to school. Child marriage also increases the likelihood of physical and mental abuse by family members, as well as coercion into sexual relationships where early pregnancy puts their health at risk.
In India, a survey by the International Centre for Research on Women found that women married under the age of 18 were twice as likely to report being physically abused by their husbands.
"Just last month, we saw a teenager in Pakistan set alight and killed after she and her family refused a marriage proposal from a 22-year-old man," Wishart said. "This horrific episode shows that girls and often their families, are trying to resist child marriage."