Bangladesh police have arrested two Dhaka factory employees who were caught on CCTV while attempting to set piles of cotton alight, just hours after the country's worst-ever industrial blaze killed more than 100 people a few miles away.
The CCTV footage, captured in a factory in the suburb of Ashulia, shows a veiled woman dressed with traditional loose garments passing through a room with garments piled neatly on table.
The woman disappears from view beneath the table and then, as she escapes the room, smoke is seen emerging from the place she was hiding.
In another frame, the woman comes back into the room along with other workers in an effort to douse the fire.
The building Is located in the same suburb as the Tazreen Fashions factory, which exploded into flame on Tuesday evening. The government has blamed the fire at the Tazreen Fashions factory on sabotage, as it emerged that two other facilities outside Dhaka were also targeted by arsonists.
"We have come to the conclusion that it [the Tazreen fire] was an act of sabotage. We are finding out as of now who exactly the saboteurs are and all culprits will be brought to book," interior minister Mohiuddin Khan Alamgir said earlier.
Three supervisors are also accused of stopping workers from leaving the building, with the excuse that it was just a drill and they had nothing to worry about.
"All three are mid-level managers of Tazreen. Survivors told us they did not allow the workers to escape the fire, saying it was a routine fire drill," city police chief Habibur Rahman told the AFP news agency.
"There are also allegations that they even padlocked doors," he added.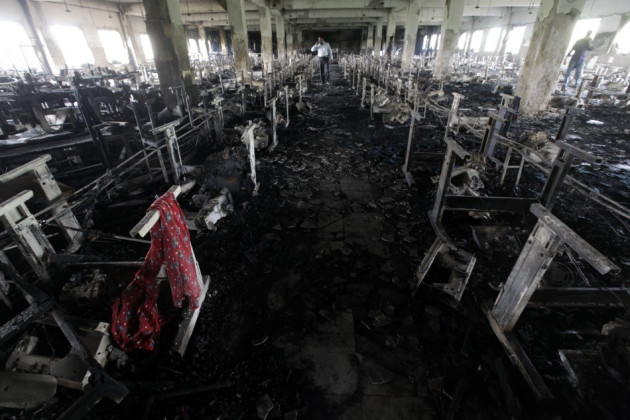 The Tazreen fire has sparked a fresh wave of protests in Dhaka, forcing police to use rubber bullets and tear gas and throwing the spotlight onto everyday working conditions in Bangladeshi factories.
Many low-level workers - some of whom gain only $37 a month - used the protests to demand higher safety standards and better conditions. Several companies have subsequently distanced themselves from the Tazreen operation.
US company Walmart, the world's biggest retailer, said one of its suppliers had subcontracted work to the charred factory without authorisation and would no longer be used. Another American retailer, Sears Holdings Corp, said its clothing was not meant to be made in that textile factory.
"Any merchandise found at that factory should NOT have been manufactured there and we are currently investigating further," the company said in a statement.
Garments intended for European chain C&A, Hong Kong's Li & Fung and the clothing label run by US rapper and actor Sean "Diddy" Combs were all found in the factory.
With 4,500 garment factories, Bangladesh is the world's biggest exporter of clothing after China, with garments making up 80 percent of its $24 billion annual exports.