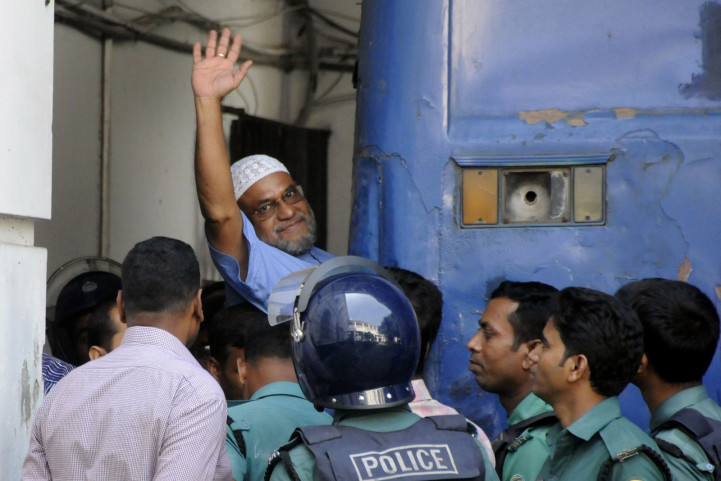 The Bangladesh Supreme Court on Tuesday, 30 August, upheld the death sentence of a top financier and Jamaat-e-Islami party's senior leader, Mir Quasem Ali, for committing war crimes in the 1971 liberation war of the country.
The Islamist leader had filed a petition for the review of his death penalty after the apex court published its full verdict and the war crimes tribunal came out with the death warrant against him on 6 June. On Tuesday, a five-member panel headed by Justice Surendra Kumar Sinha, announced the judgement.
"The chief justice rejected the review. I am satisfied. The nation is relieved. Now he has a chance to seek presidential clemency. Or else the verdict could be executed anytime whenever the state wants," Attorney General Mahbubey Alam, said.
On 3 November 2014, the International Crimes Tribunal, set up by Prime Minister Sheikh Hasina sentenced Ali to death on two charges of killing seven people after kidnapping them in Chittagong. He was also given a 72-year jail sentence on eight other proven charges of abduction, conspiracy and planning, Dhaka Tribune reported.
Ali was reportedly an important figure in the formation of the controversial group al-Badr in Chittagong during the liberation war, and is said to have set up torture camps at different places in the city. Official figures show at least three million people were killed and thousands of women were raped during the nine-month war.
Prosecution lawyers had previously said Ali had tried all possible ways to influence his trial. They said he had a $25m (£19m) deal with US-based lobby firm Cassidy and Associates to engage the governments of United States and Bangladesh to protect his interest. During the appeal hearing of his death sentence, the state submitted a receipt issued by the US firm for what it said was a "professional service."
Since 2013, five opposition leaders have been executed for war crimes. They were sent to the gallows just days after their appeals were rejected by the Supreme Court. Most of them did not seek a presidential clemency.
The tribunal set up by Hasina has divided the country and triggered deadly protests, with supporters of the Jamaat-e-Islami party labelling it a sham aimed at victimising rival politicians but the government has denied the allegations.
Rights groups say the procedures of the tribunal fall short of international standards but the government has also rejected that claim.
Additional security forces were deployed across the country as similar judgements previously sparked violence killing 200, mainly Jamaat supporters and police.