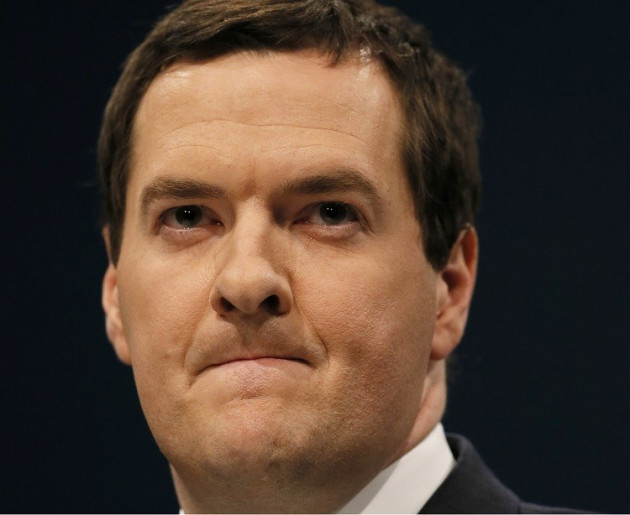 Chancellor George Osborne has asked the Bank of England to review whether it needs more power over the balance sheets of financial firms to limit their risk-taking.
Governor Mark Carney said he agreed with the need for such a review, which could see the Bank of England apply tougher leverage ratio rules for banks than the current international standards demand.
A leverage ratio is calculated by measuring a bank's debt against its shareholder equity. Banks were heavily leveraged with debt before the eruption of the financial crisis, a situation which intensified the meltdown and left governments forced to bail out institutions with taxpayers' cash.
In a letter to Carney, Osborne relaxed from his past position that the 3% leverage ratio standards agreed at the Basel III agreement on banking regulation were sufficient. He is concerned about tightening leverage rules too much in the fear that banks will limit their lending to businesses and consumers as a result.
"I remain keen, as I know you are, for the UK to be fully compliant with international standards for the leverage ratio, and the UK will of course have to fully comply with any future standards from the EU," wrote Osborne to the governor.
"My view has been that the international timetable is sensible and that the UK should certainly implement these standards no slower than that. I also think that the UK should apply the international standard for the level of the baseline leverage ratio, in line with the final Basel definition and calibration.
"I am open to the review making recommendations that the Financial Policy Committee may need the power to implement a leverage ratio ahead of this timetable or to set a higher baseline ratio in some circumstances for UK banks.
"However, I would want to see clear evidence how implementation ahead of the international timetable, or at a higher level than the international standard, would contribute to the FPC'S primary objective of securing financial stability in the UK."
Carney said in his letter that he agrees "the time is now right to commission such a review".
"A judgment on the appropriate calibration for a leverage standard cannot be made until the exact definitions for the leverage ratio are finalised," he wrote.
"These definitions are due to be agreed internationally by the Basel Committee on Banking Supervision early in the New Year."
Carney also highlighted his record overseeing the Canadian financial system as governor of the country's central bank.
"If I were to choose just one reason why Canadian banks fared as they did through the crisis, it would be because they were subject to a leverage standard," he wrote.
"It is, therefore, crucial that we have an appropriately calibrated minimum leverage ratio for UK banks."