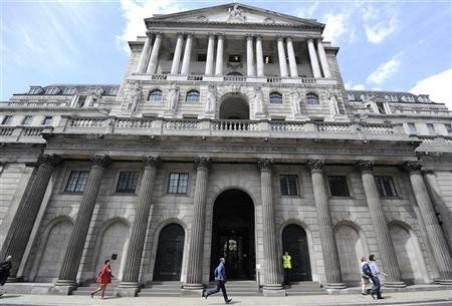 Britain's economy is likely to slump back to contraction in the final quarter of 2012 and inflation will be above target for most of 2013, according to minutes from the latest meeting of policymakers on the Bank of England's rate-setting committee.
The nine-member Monetary Policy Committee (MPC) voted unanimously to hold the base rate at its record-low of 0.5 percent and eight members voted to hold quantitative easing at its current £375bn target value.
"Most members agreed that developments on the month had done little to alter the balance of arguments between maintaining and increasing the size of the monetary stimulus," said the minutes.
One member, David Miles, pushed for a further £25bn to be injected after the MPC meeting on 5 and 6 December.
Inflation has proved sticky in recent months, though it has maintained a general downward trend since its peak at 5.2 percent in September 2011.
November's CPI inflation reading was 2.7 percent, unchanged on the previous month. The government's target for inflation is 2 percent.
"In the medium term, the Committee's central expectation remained that inflation would fall back to target as the influence of past rises in energy and import prices faded and as a pickup in productivity attenuated domestic cost pressures," said the minutes.
Monetary policymakers are expected by many economists to inject a further £50bn of stimulus into their quantitative easing programme as leading forecasts, including the Bank of England's own, show a worsening outlook for the British economy.
Under the Bank's QE programme, which is called the Asset Purchase Facility and was started in January 2009, it buys up gilts in order to improve market liquidity.
According the latest figures from the Debt Management Office, the Bank of England owns 27 percent of all gilts issued.
Charlie Bean, the Bank's deputy governor, raised doubts in November over the effectiveness of QE.
"As yet, we do not seem to be in a liquidity trap in which yields can be pushed down no further. What to my mind is a more open question, though, is the degree of traction these lower yields have on demand at the present juncture," said Bean in a speech.
"That does not mean that quantitative easing is impotent. But I think there are reasons to believe the effect of lower yields may be weaker than usual at the current juncture."
On its key base rate the Bank's MPC has resisted calls from the International Monetary Fund to slash it further from its record-low.
The MPC also noted Chancellor George Osborne's autumn statement, which was delivered to parliament on 5 December, but said the fiscal measures announced will have almost no impact on the outlook for growth across 2013.
Committee members also said that while it is too early to draw any solid conclusions on the impact of its flagship credit easing effort, the Funding for Lending Scheme, the situation looked positive.
"Lower bank funding costs and some reduction in lending rates were encouraging indicators for the supply of credit to the economy," said the minutes.
---
Follow @shanecroucher