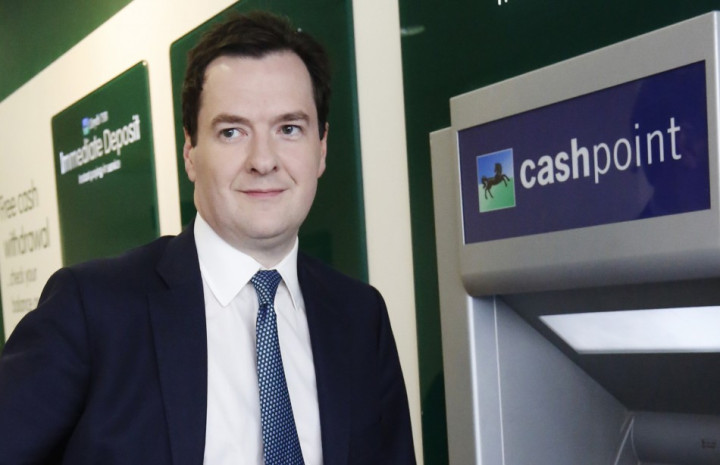 Britain's financial sector is sucking up billions of pounds in cheap credit while real economy sectors, such as manufacturing, struggle to gain funding.
According to the Bank of England's (BoE) August statistics on money and credit, Chancellor George Osborne's aim of rebalancing the economy away from the financial industry, which many said became too bloated during the financial crash in 2008, was not working.
The BoE's figures showed that non-financial industries, such as construction, real estate, and manufacturing are holding onto cash rather than taking out loans to invest into projects.
Who Benefits from Cheap Lending?
Loans to financial and non-financial businesses increased by £11.4bn (€13.6bn, $18.3bn) in August compared to the average monthly decrease of £7.2bn across the previous six months.
However, the 12 month growth rate was at 0.6% but that increase was concentrated in loans to businesses in the financial services industry at £14.7bn.
This goes against Osborne's rhetoric of attempting to drive growth in areas of the economy that are not dependent on house building and the banking industry.
Furthermore, saving by financial and non-financial businesses increased by £9.3bn in August but again this increase was mainly in the financial services industry at £15.4bn.
Sectors in the real economy saw a considerable decrease in their amount of lending to them that went down by £3.8bn in August 2013.
The average monthly decrease over the past six months has been £1.2bn.
Housing Bubble?
Concerns that the chancellors' controversial Help to Buy Scheme might inflate house prices and penalise first time buyers might also be reinforced.
The amount of credit extended to household buyers increased sharply.
The number of loans approved for house purchases rose to 62,226 this month compared to 56, 597 over the last six months.
Similarly, lending to individuals secured on dwellings or mortgages increased by £1bn in August 2013 compared to the average monthly increase of just £0.8bn over the previous half year.
Osborne's Austerity Strategy Working?
The better economic news over the summer for Britain allowed the government to say the economy has moved from rescue to recovery.
But living standards in Britain have not risen since the financial crisis hit the UK in 2008 and the BoE's latest figures show that the UK's nascent economic recovery has benefited the financial sector.