Bao: Eschew the century egg and pig blood cake for bao buns and turnip tops
NOTE: This article is a contribution and do not necessarily represent the views of IBTimes.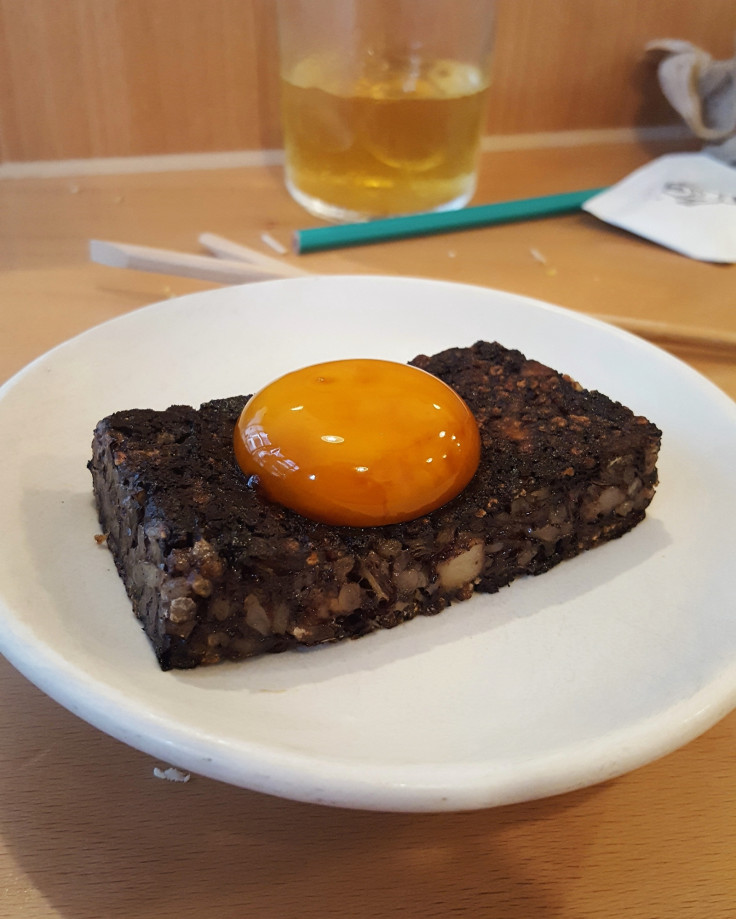 With a new establishment set to open in Fitzrovia this June, we headed down to Bao's flagship in Soho, which itself opened barely more than a year ago, to see how they were doing so well. From humble street-food-stall beginnings, the Taiwanese-inspired menu has set appetites alight – even if it contains some lesser sought-after items.
The first thing to note is that Bao on Lexington Street is tiny. It's probably 20 covers and you're most likely going to be on a stool at a counter; it's not made for hanging around. On this Tuesday afternoon, I arrive just after the lunchtime opening (12noon) and the place is already full, by the time I leave the beginnings of a queue are starting.
Bao is a fast-paced, little plate kind of place. The menu is a list of small dishes next to which you pencil the quantity you want. They recommend two or three plates – though you could probably fit more. The prices aren't bad so adding an extra plate as you eat doesn't mean too much – the most expensive is £6.
When it opened, Bao managed to catch a few headlines with dishes that might seem a bit obscure to the English palate. Century egg, for one, is an egg preserved in ash, grains and salts for weeks at a time, until the white and yolk go a dark grey colour; the pig blood cake is, well, a cake made with pig blood. There are trotter nuggets.
Sitting at the central counter, you watch the white coated bartenders set timers for perfect pots of tea. The iced oolong sets an appetite as patrons on stools next to you finish off small plates and play on their phones. This Tuesday lunchtime, it's not particularly loud in the small but packed restaurant – a lot of focus is on the food.
And the first small dish to come my way tells me why. I order cavolo nero with salted egg and am given turnip tops with salted egg, presumably what you get when there's no cavolo nero. This could have been annoying if it hadn't tasted incredible. A delicious, strong umami flavour coursing through the well dressed leaves – I could have simply eaten bowl after bowl and this review still would have stayed glowing.
The fried chicken bao next added to my joy. The soy-milk-marinated chicken slicing perfectly as you bite into the soft bun, the spiced mayo tickling you as your teeth continue down. The kimchi addition seemed unnecessary but wasn't unpleasant.
These staples of the restaurant – greens and bao burgers – are certainly what to go in for (or probably stand in a queue for). The more esoteric choices, though interesting in themselves, didn't come close.
The pig blood cake was a sort of rice cake, held together with a dark membrane. It doesn't have the black pudding taste you might think it would, it's more grainy and soya – and more bloody. The blood after-taste stuck in my mouth for a few hours after the meal – like when you had a nosebleed as a child and a few hours later might still be able to taste the coppery, old blood in the back of your throat. I quite like this taste, but after saying this to some people afterwards and seeing their reactions, this doesn't seem like a popular opinion. The cake is topped with an egg yolk that works well to keep the savoury flavours together. There's nothing wrong with it, if you like those tastes, it just seems more exciting than it is.
Next, the eryngii mushrooms with century egg was lightly dressed with a nice soya mixture. The century egg doesn't really make much of an appearance, aside from a few scramble-y bits dusted over the mushrooms – maybe the weeks it takes to make century egg means that you can't have too much before the plate's £4 price tag gets a push up. From tweezering bits of black egg with chopsticks I could taste... egg, strong egg. The mushrooms, for their part, were perfectly done and, again, delicious.
Address - 53 Lexington St, Soho, London W1F 9AS
Times - Monday to Saturday: 12pm - 3pm; 5:30pm - 10pm.
Website - baolondon.com
Menu - Here
Prices - Five plates plus ice tea and service: £25
Rounding off the Bao experience is the fried Horlicks ice cream which comes in a little fried bao of its own. The spoon I was given was useless in breaking through this bun, and I wasn't about to go all ice-cream sandwich in a way I was sure would only end in mess, so I slowly ate the middle – with its comforting, hot chocolate taste – before going for the warm, sweet bun.
If you eschew the esoteric dishes, Bao is one of the best places I've eaten. Those turnip tops I somehow can't forget, even if they weren't the cavolo nero I asked for. The staff were friendly, helpful and courteous, and £25 for a great meal, including an ice-tea and service is a steal. No wonder there's a queue.
NOTE: James Tennent ate at Bao anonymously and paid for his own meal.
© Copyright IBTimes 2023. All rights reserved.