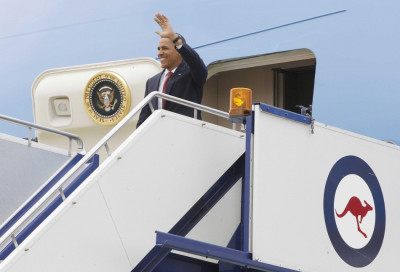 U.S. President Barack Obama announced Wednesday a new security agreement with Australia that is widely viewed as a response to China's growing military power.
Obama and Australia's Prime Minister Julia Gillard unveiled a new agreement to expand the American military presence in Australia and outlined plans for up to 250 personnel by mid-2012.
Gillard said the expansion will strengthen Australia's co-operation with the U.S. and the military presence will grow to a full force of about 2,500 personnel that will operate on a rotational basis. The U.S. Marines will exercise and train with the Australian Defence Force in the Northern Territory.
In a joint statement, Gillard and Obama said the "initiatives strengthen an already robust partnership that has been an anchor of stability and peace in the Asia-Pacific region".
"Starting next year, Australia will welcome the deployment of U.S. Marines to Darwin and northern Australia, for around six months at a time, where they will conduct exercises and training on a rotational basis with the Australian Defence Force. The initial deployment will consist of a small liaison element and a company of 250 U.S. Marines," the statement said.
The leaders also agreed to closer cooperation between the Royal Australian Air Force and the U.S. Air Force that will result in increased rotations of U.S. aircraft throughout northern Australia. This will enhance bilateral collaboration and offer greater opportunities for combined training and exercises.
Obama said the new agreement will strengthen security throughout the region, which has become increasingly important, and that a stronger troop presence could assist with response to humanitarian issues and natural disasters more promptly.
Obama denied a suggestion that the increased military presence was a response to the growing concerns surrounding China's more aggressive stance in recent years, saying he "welcomes a rising peaceful China". But he added: "I think the notion that we fear China is mistaken. The notion that we're looking to exclude China is mistaken."
Obama said the new deployment to Australia was important because it would help partners in Asia feel that "we have the presence that's necessary to maintain the security architecture in the region".
Upon his arrival at Parliament House Wednesday afternoon, Obama signed the Prime Minister's visitors' book with a heartfelt message. "To the people of Australia, with whom we have stood together for a century of progress and sacrifice. On this 60th anniversary of our alliance we resolve that our bonds will never be broken and our friendship will last for all time."
Obama reflected on previous visits to Australia during his childhood, when he lived in Indonesia, and expressed affection toward the country and its people. "I have never forgotten the warmth and kindness that the Australian people have provided me when I was six and eight and I can see that the Australian people have lost none of that warmth."
He also shared some kind words for the prime minister, whom he called "my friend Julia."
"I see the qualities [in her] that we Americans like most in Australians. [She is] down to earth, easy to talk to and someone who says it like it is, straight up. And that is why we have achieved so much to date."
One lucky schoolgirl offered a warm welcome to Obama and wrapped her arms around him with a big hug. Chelsea Gallagher from Dungong Primary School later described the experience as "just an amazing feeling," according to reports in the Australian media.