Gun Law: Barack Obama Highlights Military Assault Rifle Ban
Sandy Hook school massacre prompts US president to sign 23 executive orders and demand congressional action on gun control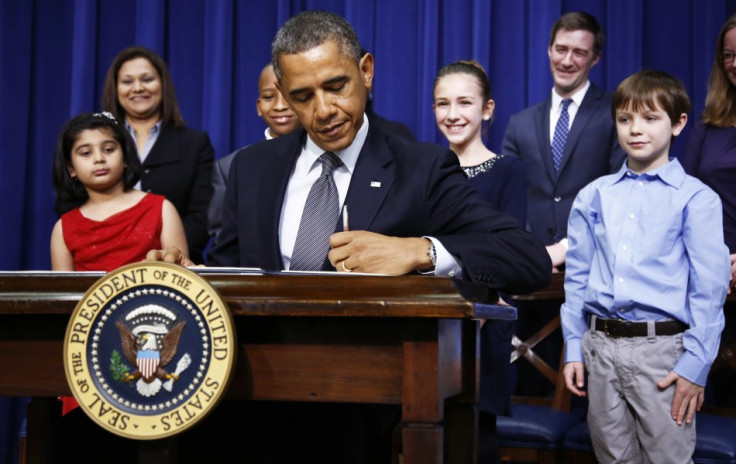 President Barack Obama has signed 23 executive orders to clamp down on gun violence in the US in the wake of the Sandy Hook school massacre.
In addition to the orders - which do not need congressional approval - Obama said he would call on Congress to ban the sale of military assault weapons and impose 10-round limits for firearm magazines.
As Obama announced the proposals at the White House, he declared that in the wake of the Sandy Hook shooting, which left 20 children and six adults dead: "If there's even one life that can be saved, then we have an obligation to try it."
As part of his $500m (£331m) plan, Obama also urged Congress to pass further measures, including universal background checks for anyone purchasing a weapon and outlawing the sale of armour-piercing bullets.
About 40 percent of guns are sold in the US without background checks being carried out on the purchaser.
As he unveiled the plans, he was joned onstage by children who wrote letters to him following the Newtown shooting.
One, 10-year-old Tajeah Goode, from Georgia, wrote: "I am very sad about the children who lost their lives. So, I thought I would write to you to stop gun violence."
How we will be judged
Obama said during his announcement speech: "Congress must act. Congress must act soon. These are our children.
"This is our first task as a society - keeping our children safe. This is how we will be judged and their voices should compel us to change."
Obama acknowledged the difficulty facing some of the plans but reassured his audience: "I will put everything I've got into this."
He added: "The most important changes we can make depend on congressional action. They need to bring these proposals up for a vote, and the American people need to make sure that they do.
"Get them on record. Ask your member of Congress if they support universal background checks to keep guns out of the wrong hands. Ask them if they support renewing a ban on military-style assault weapons and high-capacity magazines.
"And if they say no, ask them why not. Ask them what's more important. Doing whatever it takes to get an A grade from the gun lobby that funds their campaigns? Or giving parents some piece of mind when they drop their child off at first grade?"
The proposals arrived as a result of a month-long review lead by the US vice-president Joe Biden following meetings with groups on both sides of the gun law argument.
Barack Obama's 23 Executive Orders on Gun Violence [FULL LIST]
© Copyright IBTimes 2023. All rights reserved.